CONNECT WITH US
SUBSCRIBE TO OUR EMAILS
The latest news and information
Order of Deacons
DEACONS - Connecting the Church and World
The Ministry of the Deacon
Deacons are persons called by God, authorized by the church, and ordained by a bishop to a lifetime ministry of Word and Service to both the community and the congregation in a ministry that connects the two. Deacons exemplify Christian discipleship, create opportunities for others to enter into discipleship, and connect the needs and hurts of the people with the church.
In the world, the deacon seeks to express a ministry of compassion and justice and assists lay persons as they claim their own ministry.
In the congregation, the ministry of the deacon is to teach and to form disciples, and to lead worship together with other ordained and lay persons, connecting the needs and hurts of the people with the church. (¶329, 2016 Book of Discipline)
Guidelines for granting local sacramental authority to the Deacon
The 2008 General Conference added this sentence to the Book of Discipline: "For the sake of extending the mission and ministry of the church, a pastor-in-charge or district superintendent may request that the Bishop grant local sacramental authority to the deacon to administer the sacraments in the absence of an elder, within a deacon's primary appointment." The Council of Bishops has agreed upon the following guidelines that will be followed in granting local sacramental authority to the Deacon.
The new language does not fundamentally change the sacramental privileges of the Order of Deacon, but attempts to describe the extraordinary missional reasons that justify exceptions to general practice. The church provides for administration of the sacraments through the ordinary sacramental authority invested in ordained elders, licensed provisional clergy, and licensed local pastors, and the new language gives guidance for the extraordinary circumstances that require the provision of the sacraments by Deacons.
"Local sacramental authority" refers to the primary field of service of the Deacon, meaning the immediate community of faith for a congregational appointment or the primary service setting and community for Deacons serving beyond a local church.
The "absence of an elder" refers to the complete unavailability of an elder in the congregation, ministry setting or community. This exception is not intended merely for the convenience of church staffs or to fill gaps during vacation, but to assist in the extraordinary circumstances where no elder can be present.
In all cases, the Discipline gives the Bishop the final discretionary authority to decide which circumstances justify the extraordinary exceptions to general practice.
Deacons serve in a variety of settings, both in the church and in the world, providing connecting links between the two. Deacon appointments may include:
Local Church:
Music Ministry, Christian Education, Mission Outreach, Youth Ministry, Business Administration, Evangelism, Ethnic Ministries
A Group of Churches or District:
Music Ministry, Disaster Relief, Homeless Ministry, Outreach to Community, Unemployed Ministry, Youth Ministry, Mission Strategy, Rehabilitation Programs, Counseling, Ethnic Ministries
Agencies:
Community Centers, Schools, Aged-care Facilities, Counseling, Hospice-care Centers, Hospitals, Prisons, Industry, General Agencies, Group Homes
Parish ministries:
With children, elderly, homeless, unemployed, drug abusers, disabled; Parish Nurse, Legal Assistant
Annual Conference:
Connectional Ministries, Mission Strategy, Social Justice, Campus Ministry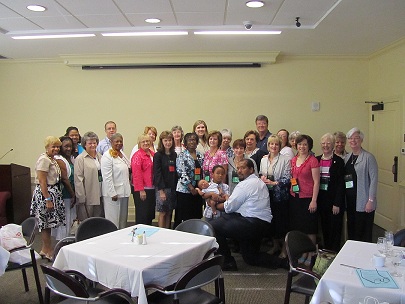 Annual Conference 2012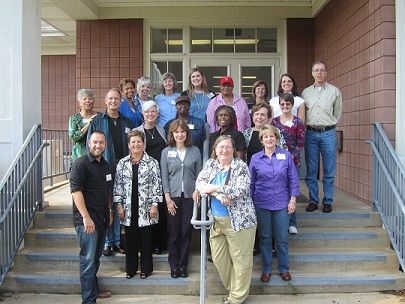 Deacons and Diaconal Ministers Day Away with Bishop Harvey
CONNECT WITH US
SUBSCRIBE TO OUR EMAILS
The latest news and information