CONNECT WITH US
SUBSCRIBE TO OUR EMAILS
The latest news and information
Henderson, Freddie
9/26/2013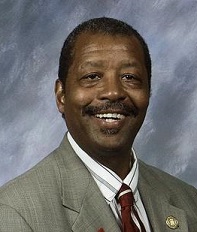 AUGUST 14, 1944 – SEPTEMBER 26, 2013
One of our Merciful Father's faithful servants was called home on Thursday, September 26, 2013. Reverend
Freddie C. Henderson was born on August 14, 1944, the oldest of three children, in Mansfield, Louisiana from the
union of the late Mr. Fred and Mrs. Ella Henderson. Freddie served this earth as a loving and devoted—husband,
son, father, and friend to many.
His call to ministry came at a very early age. At the age of 12, Freddie knew that spreading God's gospel would be
his life long journey. He received his Exhorter's license in 1958 and served diligently as a student pastor during his
senior year in high school.
After graduating from Desoto High School in Mansfield, Louisiana, he attended Wiley College in Marshall, Texas
where he received a BA in Sociology.
To further his theological education, Freddie was accepted into the prestigious Interdenominational Theological
Center (Gammon Seminary) in Atlanta, Georgia where he received a Masters of Divinity Degree in 1970.
He served the United Methodist Church as pastor in the Baton Rouge area for over 40 years including pastorates at
Hartzell UMC, Shiloh UMC, and Lejeune, Jordan and Wesley UMC churches. He also has served as a Juvenile
Chaplain at the Jetson Correctional Institute in Baker, Louisiana.
Rev. Henderson served on many of the boards and committees at the district, conference, and jurisdictional levels.
He was elected as a delegate to General and Jurisdictional Conferences in the years of 1996; 2000; and 2004. He
was the President of the Greater Baton Interfaith Federation and also a member of various social and civic
organizations such as Alpha Phi Alpha Fraternity, Inc.
In 1998, Rev. Freddie Henderson was appointed District Superintendent of the New Orleans District of the
Louisiana Conference of The United Methodist Church. In June 2006, he was appointed Director of Disaster
Preparedness for the Louisiana Annual Conference of The United Methodist Church. Although officially retired in
2009, he served St. Paul's and St. Luke UMC Charge in Baton Rouge since June of 2009.
Although he was serious to his devotion to the ministry, he would also cut a joke with the best of them. During his
down time, you could always catch Freddie either listening to music, sports, reading and playing with electronic
"gadgetry."
For 43 years he was a loving husband to Gloria "Glo" Listach Henderson until her transition to eternal rest in
September, 2009. Three children; sons Freddie Jr. and Nora and daughter Keisha were born to Freddie and Gloria.
As a family, they enjoyed traveling, grilling, and tackling home projects and a host of other joys. He was preceded
in death by his parents, Fred and Ella Henderson, wife Gloria and brother, Cleonis Henderson. He is survived by his
three children, Freddie, Nora and Keisha, his brother Henry (Kay), nine grandchildren and six great-grandchildren
and a host of family and friends.

CONNECT WITH US
SUBSCRIBE TO OUR EMAILS
The latest news and information