CONNECT WITH US
SUBSCRIBE TO OUR EMAILS
The latest news and information
Young adults meet, report to AC2015
June 16, 2015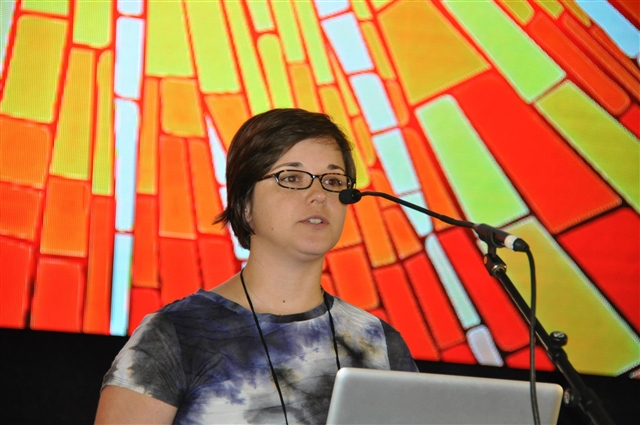 Throughout AC2015: Come and See, young adults gathered for dinner and small group conversations to discuss how they can better work in partnership with the church body as the Louisiana Conference moves forward.
More young adults in the Louisiana Annual Conference sessions were involved as either lay members from local churches, district delegates or observers, according to Rev. Don Cottrill, provost. These persons, falling into the 19-35 age bracket, presented a summary report of their collective conversations on Wednesday morning of AC2015.
"We need your guidance; we need your support," said Rev. Drew Sutton, Wesley Foundation director for LSU in Baton Rouge. "We want to be active with you; together, we make the body of Christ."
Jennifer Swann, lay leader for University United Methodist Church in Lake Charles, said during the presentation, "It only takes just one" person to turn a person away from church—or to convince them to come to church.
To illustrate her point, Swann shared a brief story about her friend Ashley, who had been an active member of the youth group in her church. Ashley had stopped going to church after graduation, but decided to return one Sunday with her two-year-old son in tow. The young child had never been in services before, and Swann said he was "definitely loud." Ashley was frustrated and embarrassed, and as she tried to leave the sanctuary, a woman sitting two pews ahead of her walked back to say to her, "You know, we do have a nursery."
Fortunately, Jennifer witnessed what had happened. Her friend was hesitant to return, but Swann convinced her to stay for Sunday school.
"Ninety-nine percent of people know what to say in that situation. But it only takes one person," said Swann. "I have three small kids of my own. They've done everything from running down the aisle to stripping in church," she said, drawing laughter from the conference members. The happy ending to this story is that Ashley joined the church and now leads its young adult Sunday school class.
"It only takes one person to redeem a situation," reiterated Swann, who in addition to serving as University UMC's lay leader, is also a Stephen Minister and the leader of the 20s and 30s group at the church.
At the end of the Wednesday morning presentation, Rev. Sutton shared a litany with the audience which stated, in part, "We as young adults are compelled by God's love, as our ministry environment shifts . .. to embody Christ. We seek to listen to urgent and changing landscapes, to risk as Peter did stepping out of the boat into choppy water. We need your help as partners in ministry
Audience members took hold of a rope that passed throughout the room while Rev. Sutton said, "Take hands, take hold of the rope running and weaving through the annual conference. The myth is that we are separate, functioning alone . . . (but we are) united in God's compelling and every expanding love."

CONNECT WITH US
SUBSCRIBE TO OUR EMAILS
The latest news and information