CONNECT WITH US
SUBSCRIBE TO OUR EMAILS
The latest news and information
Dulac residents participate in Good Friday Walk of the Cross
March 23, 2015
Every year since 1988—in rain or shine--churches in the Dulac, La. area have come together on Good Friday for an annual Walk of the Cross.
Starting at the Bayou Land Church of God (Hwy. 57, Grand Caillou Road) and travelling 5.5 miles to Clanton Chapel United Methodist Church on Coast Guard Road in Dulac, a group of "pilgrims" representing various area churches take turns carrying a large cross that was built for the event. The walk ends at Clanton Chapel where participants gather for a worship service.
"The walk started because so many people had really forgotten the true meaning of Good Friday. The priest and ministers from local churches came together to create the event, which reminds us of what really happened on that first Good Friday when Jesus Christ carried His cross for everyone," said Rev. Kirby Verret, pastor of Clanton Chapel UMC.
The original cross used for the walk was made by Lawrence "Moot" Billiot, a lifelong United Methodist and boat builder. When that cross "wore out" about 10 years ago, Lawrence " Beb" Billiot--Moot's son--built the one that is in use today. "Some people walk the event all the way, some stand on the side of the road offering water to the participants. Prayers are offered every time the cross stops and a new carrier takes up the cross," said Rev. Verret.
This walk is sponsored by the Dulac Ministerial Association. Holy Family Catholic Church pays the insurance for the event and the Terrebonne Parish Sheriff's Office provides an escort for the pilgrims. In addition, the Grand Caillou Fire Department provides water and EMT's for the walk.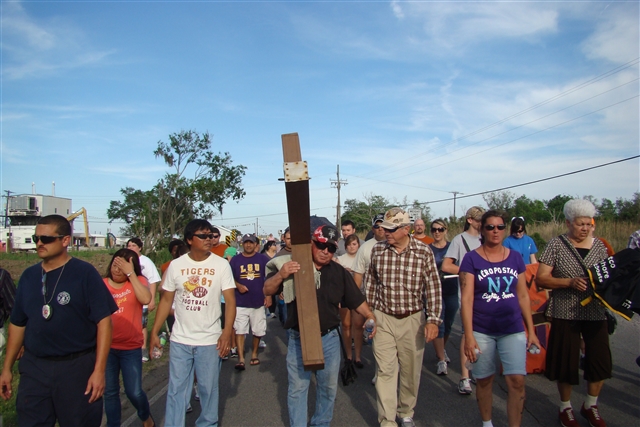 CONNECT WITH US
SUBSCRIBE TO OUR EMAILS
The latest news and information