CONNECT WITH US
SUBSCRIBE TO OUR EMAILS
The latest news and information
Provisional deacon coordinates Bible study series for downtown Shreveport offices
December 16, 2014
Rev. Lindy Broderick, a provisional deacon with the Louisiana Conference and executive vice president of the Greater Shreveport Chamber of Commerce, recently spearheaded a Bible study series which primarily targeted office workers in Shreveport offices.
Entitled "Faith at Work," the three-week series expanded on a Board of Ordained Ministries (BOM) assignment which asked that candidates offer a Bible study series in their respective ministry settings. "We had a goal of 30 attendees for 'Faith at Work,' yet had to bring in extra chairs to accommodate everyone! The group was diverse in gender, age, race and denomination--and eager and responsive with discussion, questions and comments," said Broderick.

In January of 2014, the Chamber offered "James at Work – Ancient Wisdom based on the Book of James" as an initial study for Broderick's BOM assignment. "We received so many positive responses asking us to offer something similar--so, 'Faith at Work' materialized," she added.
The series featured successful business people of different faiths who talked about how they embrace their personal faith in God as a part of their secular careers in the business community. Featured speakers shared their testimony and witness as encouragement to others to do the same.

Broderick commented that the series helped to connect "church and the world" in downtown Shreveport!
The flyer below is an example of one sent out to offices to promote participation in the study series.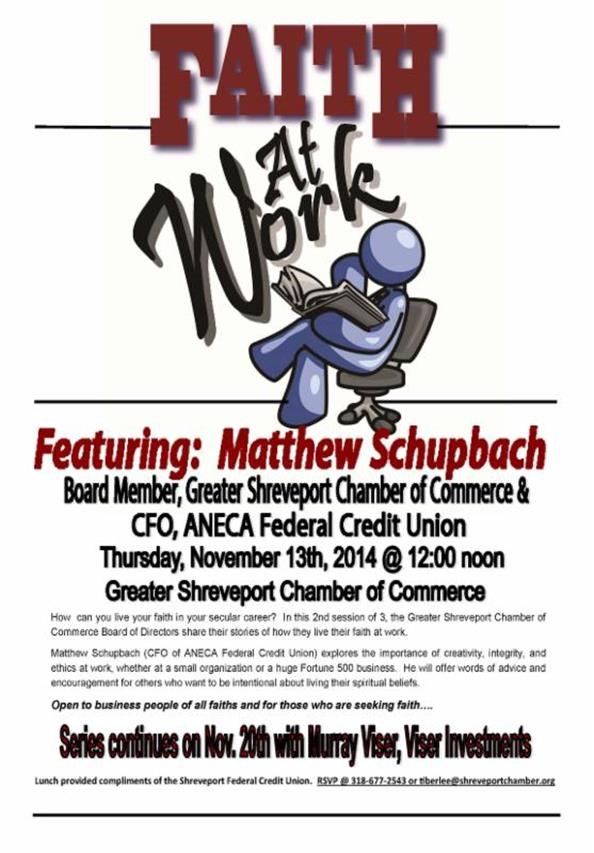 CONNECT WITH US
SUBSCRIBE TO OUR EMAILS
The latest news and information