CONNECT WITH US
SUBSCRIBE TO OUR EMAILS
The latest news and information
General/Jurisdictional Conference delegation meets at Foundation office
November 19, 2014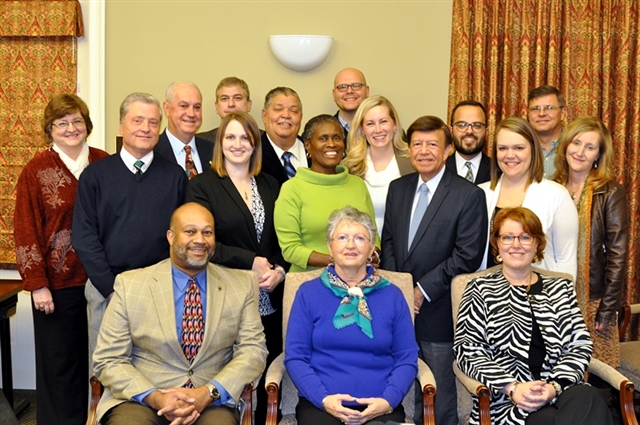 The Louisiana Conference delegation, in preparation for the 2016 General and Jurisdictional Conferences, held their second meeting Nov. 17 at the offices of the United Methodist Foundation of Louisiana in Baton Rouge.
The United Methodist denomination's General Conference will be held May 10-20 in Portland, Oregon; the South Central Jurisdictional Conference is slated for July 13-16 in Wichita, Kansas.
Clergy delegates to General Conference are Revs. Andy Goff, Juliet Spencer, Pat Day and Bernadine Johnson; and Lay delegates are Carolyn Dove, Dr. Sarah Kreutziger, Pete Aguila and Terrel DeVille. Additional clergy delegates to Jurisdictional Conference are Revs. Lynn Malone, Juan Huertas, Ellen Alston and James Mitchell; and additional Lay delegates are Stacy Hood, Amanda Price, Walter Weiss and Olivia Pruett. Alternate Clergy delegates are Revs. Katie McKay Simpson and Matt Rawle; and Lay delegates, Rob Fairly, Jr. and Todd Rossnagel.
After a morning of team building led by Dr. Craig Gilliam--director for the Conference Center for Pastoral Excellence--the delegation discussed the proposed Episcopal Candidacy process that the Louisiana delegation will utilize this quadrenium.
The delegation will meet again Feb. 28, 2015 at The Wesley Center in Woodworth.

CONNECT WITH US
SUBSCRIBE TO OUR EMAILS
The latest news and information