CONNECT WITH US
SUBSCRIBE TO OUR EMAILS
The latest news and information
Benton UMC youth spearheads fight against hunger through t-shirt sales, 5K run
October 20, 2014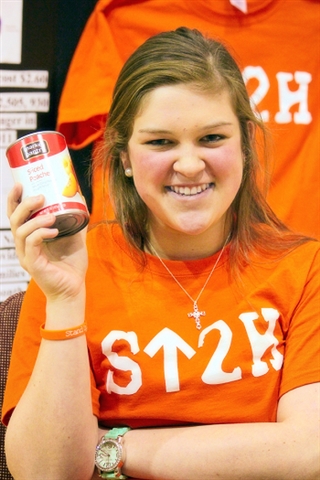 Lynnse Terhune, a member of Benton UMC and a sophomore at Benton High School, started Stand Up 2 Hunger in 2013 by selling t-shirts to raise funds to fight hunger and spread awareness.
This year, the Stampede Hunger 5K run/walk will provide another avenue for Lynnse to further her cause.
On Nov. 15, Benton United Methodist Church will be hosting Stampede Hunger to benefit the Food Bank of NWLA and Table Food Ministries of Benton UMC. The 5K (3.1 mile) course will start and finish at Benton UMC, 4615 Palmetto Road, winding through lanes and small, rolling hills in Woodlake South subdivision.
Terhune's interest in reaching out to the hungry stems from the knowledge that Bossier Parish has a 12.4% food insecurity rate, with 14,580 people unsure where their next meal is coming from. That number has grown by 680 people since last year.
"I started Stand Up 2 Hunger because I wanted people to believe that there was still good in the world, especially in our area. I see all the time how people go to other countries and help out there, providing food, clothes, etc. but I felt the need to do something here! God continued to pull at my heart about helping out in our community because He knew that I could make a difference and He was so right! None of this would have happened if I didn't have God leading me every step of the way."
The Stampede Hunger event will provide a nursery for children ages 4 and under (with pre-registration.) There will be carnival games and face painting and the Benton Fire Department will have its fire truck on display.
To register, visit www.bentonumc.org/Stampede ; register online by Oct. 28 to receive a t-shirt. Race day registration begins at 7 a.m. (t-shirts are not guaranteed if not pre-registered). Registration fee is $25 per person for the 5K and $15 for the children's ½ mile Fun Run.
All fitness levels welcome! This event is designed for the whole family to enjoy! For more information, please contact the church office at (318) 965-2273.

CONNECT WITH US
SUBSCRIBE TO OUR EMAILS
The latest news and information