CONNECT WITH US
SUBSCRIBE TO OUR EMAILS
The latest news and information
UMC #GivingTuesday is Dec. 2
September 29, 2014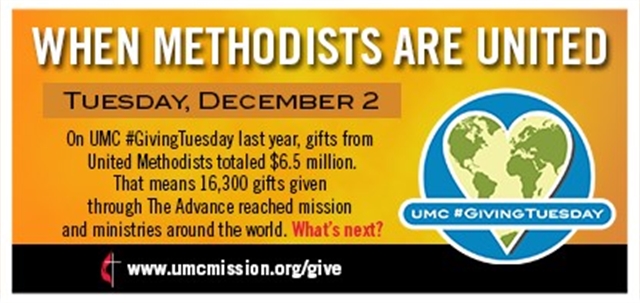 Last year, UMC #GivingTuesday generated a record $6.5 million on line. Through The Advance, 11,000 individuals and churches in 34 countries gave more than 16,300 gifts to mission and ministries they believe in.
On Dec. 2, United Methodists once again are invited to extend the spirit of giving thanks into the Advent season by participating in UMC #GivingTuesday.
When Methodists are united . . . we provide an alternative to the consumer-driven shopping traditions in the United States of Black Friday, Local Business Saturday and Cyber Monday. UMC #GivingTuesday offers an opportunity to begin the holiday season by giving instead of getting, by supporting organizations and missionaries who have been researched and approved by the United Methodist General Board of Global Ministries. And 100% of all gifts made through The Advance are given directly to the designated project.
In the spirit of healthy competition, we are preparing a special Advance award to be given to the annual conference that raises the most funds online through The Advance on Dec. 2.
We are working out the details of a possible matching gift
, but in the meantime
please help us by working
with your local churches. Banners, worship resources, graphics and other ideas are available for download on the UMC #GivingTuesday
resource page
.
UMC #GivingTuesday is a mostly online, social media-driven campaign reminding people that:
1) As always, 100 percent of each donation made through The Advance will support the project designated by the donor.
Thank you for your support and for helping UMC #GivingTuesday successfully unite our church for impact. Should you have any questions or suggestions about UMC #GivingTuesday, please contact
advance@umcmission.org
Here are some suggestions for promoting UMC #GivingTuesday.
Website
Banners and other resources are available for download on the UMC #GivingTuesday
resource page
. Please post the UMC #GivingTuesday logo prominently on your conference's home page with a list and description of which projects and missionaries are conference priorities.
Email Signature
Please consider adding a custom signature line that includes information about UMC #GivingTuesday. Adding this line to every email you send will share information in a way that requires minimal effort.
Social Media
You are also invited to raise awareness about UMC #GivingTuesday through your conference's social media networks. Post a graphic from the
resource page
, encourage people to upload an "unselfie" using one of the graphics, share posts from UMCmission, and help us promote the event with messages like these:
Perfect antidote to overspending on #BlackFriday? UMC #GivingTuesday coming on Dec. 2! #umcmission
Think one day of giving thanks isn't enough? Get ready for UMC #GivingTuesday. Dec. 2 #umcmission
Alternative Giving
· Ask church members and pastors to request that Christmas gifts be made as a donation in their name to their favorite Advance project or missionary. Encourage them to ask givers to make the gift on Dec. 2 to maximize the impact.
· Ask clergy and laity to make Christmas gifts in in the form of a donation in honor of their friends and family on Dec. 2. Do they still want to present a wrapped gift? Suggest that they:
§ Accompany the notification with a token representation of the designated ministry (a framed map of the region, a water bottle for a water project, a hammer for a construction project, etc.).
§ Design or purchase a card that reflects the theme of the ministry or a photo of the missionary.
CONNECT WITH US
SUBSCRIBE TO OUR EMAILS
The latest news and information