CONNECT WITH US
SUBSCRIBE TO OUR EMAILS
The latest news and information
Billboards, radio spots and online ads will promote Oct. 11 Louisiana Skeeter Run
September 08, 2014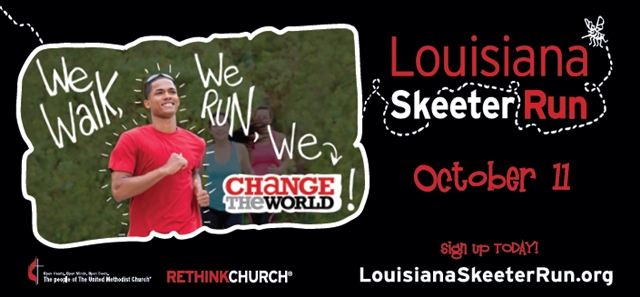 A media plan including radio and billboard advertising, as well as online ads, will promote the Oct. 11 Louisiana Skeeter Runs in Baton Rouge, Lake Charles, Mandeville and Ruston!
The media buy is funded through a grant from United Methodist Communications, the third such grant from UMCOM supporting the Skeeter Run, which is in its third year. UMCOM has issued media grants to the Louisiana Annual Conference for the last 12 years.
The Shreveport District run was held August 9, beginning and ending at First United Methodist Church, Shreveport. Close to 300 walkers and runners participated in that event, raising awareness and thousands of dollars for Imagine No Malaria!

Bishop Harvey is asking that all local churches in the Baton Rouge, Lake Charles, New Orleans and Monroe Districts please promote the Skeeter Run through their church media, Facebook, websites and newsletters.
Register for a Louisiana Skeeter Run near you at www.louisianaskeeterrun.org

CONNECT WITH US
SUBSCRIBE TO OUR EMAILS
The latest news and information