CONNECT WITH US
SUBSCRIBE TO OUR EMAILS
The latest news and information
Centenary student organization sponsors New York Times best selling author Judy Shepard
September 08, 2014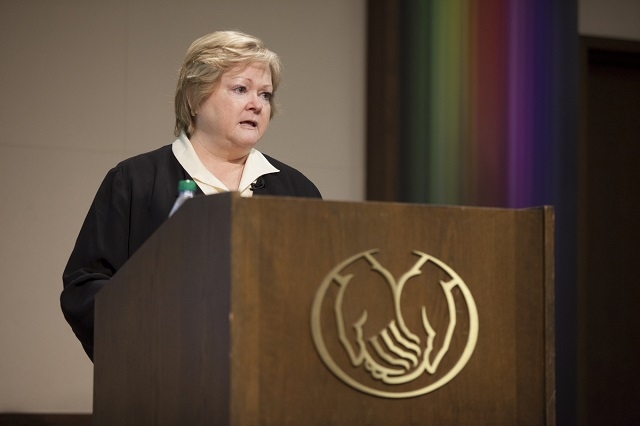 SHREVEPORT, LA — Centenary College's student-led organization, Outreach, is sponsoring speaker and New York Times best selling author Judy Shepard to present "The Legacy of Matthew Shepard" on Saturday, Sept. 6 in the Whited Room on Centenary's campus at 10 a.m.
Shepard's son, Matthew, was killed in 1998 while a student at the University of Wyoming in a murder motivated by anti-gay hate. Determined to prevent others from becoming victims of hate crimes, Shepard established The Matthew Shepard Foundation to carry out his legacy.
"It is an honor to have Judy Shepard speak on campus," said student Marilyn Wells, president of Outreach. "Judy's message is that of love and understanding, characteristics we hope to foster in our Centenary community. Her presence is especially fitting as Outreach was founded by a Centenary student in response to Matthew's murder."
Her visit is in conjunction with the sixth annual North Louisiana Gay and Lesbian Film Festival where a documentary about her son, Matt Shepard is a Friend of Mine, will be screened and Shepard will be a guest of honor.
Outreach is a student-led support and advocacy group for the LGBTQ Centenary community where all are welcome regardless of sexual orientation, gender identity, sexual preferences or any other orientation/identity.
The goal of this organization is to provide a safe and open environment for students to discuss topics surrounding sex and gender, as well as human rights and women's rights. Outreach strives to educate the
Centenary community in order to overcome the stereotypes surrounding the LGBTQ community.
For more information, contact Outreach staff advisor and Director of Residence Life & Student Conduct Montgomery Mewers at mmewers@centenary.edu or (318) 869-5110. The event is free and open to the public.

CONNECT WITH US
SUBSCRIBE TO OUR EMAILS
The latest news and information