CONNECT WITH US
SUBSCRIBE TO OUR EMAILS
The latest news and information
Dillard celebrates 50 years of 'Upward Bound'
August 25, 2014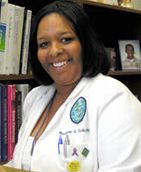 NEW ORLEANS, LA – Dillard University will celebrate the 50th anniversary of its Upward Bound program during a breakfast scheduled for Sept. 20 at 10 a.m. in the Student Union. Founded in 1964, Dillard's Upward Bound initiative is one of 17 pilot programs in the country and is the first in Louisiana. Upward Bound is a Federal TRIO Program and was initially created as part of President Lyndon Johnson's "War on Poverty" to assist students of color and low-income white students in attaining a college education.
The breakfast will feature graduates of Dillard's Upward Bound program as well as the first director, Adrienne Tervalon, and Dr. Camacia Smith-Ross, who spearheaded the program after Hurricane Katrina.
Dr. Monique G. Cola, alumna of Dillard's Upward Bound Program and assistant to vice chancellor of student affairs/executive dean at Delgado Community College, is the keynote speaker for the event. Prior to her position at Delgado, Cola served as Director of the Biology Resource Center at Xavier University. She also served as the first African American faculty member in Tulane University's Neuroscience Program. While at Tulane, she taught the Neuroanatomy Laboratory for the Neuroscience Graduate Program and a course on the "Brain and Behavior." As a neuroanatomist, Cola has done clinical research using Magnetic Resonance Imaging (MRI) to measure regions of the brain in Alzheimer's disease (AD), stroke, and healthy controls to better understand how dysfunctions in the brain occur.
As the only black female neuroscientist in Louisiana, Cola says her personal endeavor is to expose underrepresented minority students to careers in the sciences. "My goal is to eliminate the illusion that only the best and brightest can do science, " she said. " I want to demonstrate that scientists can be normal warm-blooded people from backgrounds and circumstances similar to theirs." Cola is known affectionately by local high school students for her "brain in the bucket" workshops from laboratory demonstrations she has done for budding STEM students.
Cola received a Ph.D. in Neuroscience from Tulane University; a M.S. degree in Pathology from Louisiana State University; and her B.A. in Biology and Chemistry (double major) from Pitzer College in Claremont, Calif.
For more information on obtaining tickets, contact Jalonda Taylor at (504) 816-4668.

CONNECT WITH US
SUBSCRIBE TO OUR EMAILS
The latest news and information