CONNECT WITH US
SUBSCRIBE TO OUR EMAILS
The latest news and information
Wissam Salsaa speaks at conference churches on Israeli-Palestinian crisis
August 20, 2014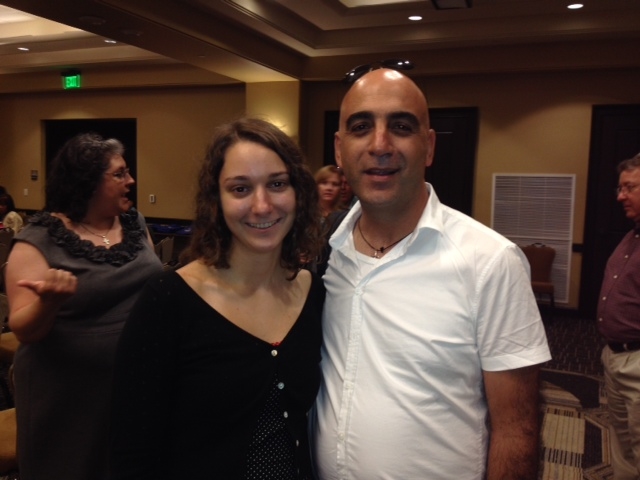 Wissam Salsaa, a Christian Palestinian, visits with Jessica Lowe before his presentation Aug. 17 at First UMC, Baton Rouge
Wissam Salsaa is a Christian Palestinian currently living with his wife and children in Bethlehem, located in the central West Bank. He was born less than 200 yards from the site commonly accepted as the birthplace of Jesus.
He is a friend to many Louisiana United Methodists, most of whom he met while serving as a tour guide for a number of conference-sponsored trips to the Holy Land.
Salsaa recently spoke at several conference churches, sharing his experiences and giving audiences a glimpse into daily life in an area of the world that is never fully at peace. The visit to Louisiana was his first trip to the United States in 10 years.
"Often, when people hear the word Palestinian, they think about violence and terrorism. Many refer to Palestinians as terrorists. Unfortunately, we are portrayed in Western media in numbers, not as individuals," said Salsaa. "(The media) doesn't show that we have lives, children. Or that we deserve to make a living."
In 1948, a United Nations resolution said that Israel should be an Israeli state; the West Bank became a Palestinian state. "At that point in history, 800,000 Palestinians—Christians, Muslims and some Jews-- became refugees. The West Bank and Gaza became home for these Palestinian refugees," said Salsaa.
But co-existence of Palestinians and Israelis with the current borders has been anything but simple. Over time, Israel built illegal settlements in the West Bank, with an estimated half million people currently living in these settlements.
There are 600 miles of walls constructed by the Israeli government separating Bethlehem and Jerusalem. When Wissam hosts a tour in Jerusalem, it usually takes him at least three hours to go through check points to enter Jerusalem.
The United Methodist Church is specific about the denomination's stance regarding the existence of Israeli settlements in Palestinian land. In The Book of Resolutions of The United Methodist Church – 2012, under "Opposition to Israeli Settlements in Palestinian Land," it states:
"Jerusalem is sacred to all the children of Abraham: Jews, Muslims, and Christians. We have a vision of a shared Jerusalem as a city of peace and reconciliation, where indigenous Palestinians and Israelis can live as neighbors and, along with visitors and tourists, have access to holy sites and exercise freedom of religious expression. The peaceful resolution of Jerusalem's status is crucial to the success of the whole process of making a just and lasting peace between Palestinians and Israelis.
"We seek for all people in the Middle East region an end to military occupation, freedom from violence, and full respect for the human rights of all under international law."
The resolution goes on to say, "We also urge the Palestinian Authority and all Palestinian religious leaders to continue to publicly condemn violence against Israeli civilians and to use nonviolent acts of disobedience to resist the occupation and the illegal settlements."
During his presentation in Baton Rouge, Wissam was asked about groups recognized as terrorist organizations. Salsaa was emphatic that the groups are not welcome by Palestinians. "We are against killing civilians, terrorism is terrorism. But unfortunately, when people become desperate, when they can't make a living--they can't see a light in the end of the tunnel. Living in Gaza is like living in hell. For some, death is better than living. This is what makes radicals--more oppression, more radicals."
Because of fear and the oppressive living situations, Christians are disappearing from Palestine. "The number of Palestinian Christians in the West Bank is probably now less than 50,000. You can see churches in ruins. It is sad to see that, but I cannot imagine my country without Christians."
Salsaa is convinced that the solution to the conflict will only be brought about through peaceful efforts for justice.
"We don't want to create more enemies. We must do what is good. Acting with hatred only makes the conflict bigger," said Salsaa. "We have a dream; we have hope. That's why I'm still there. I want you to pray for us. Like us, there are lots of Israelis who struggle for peace."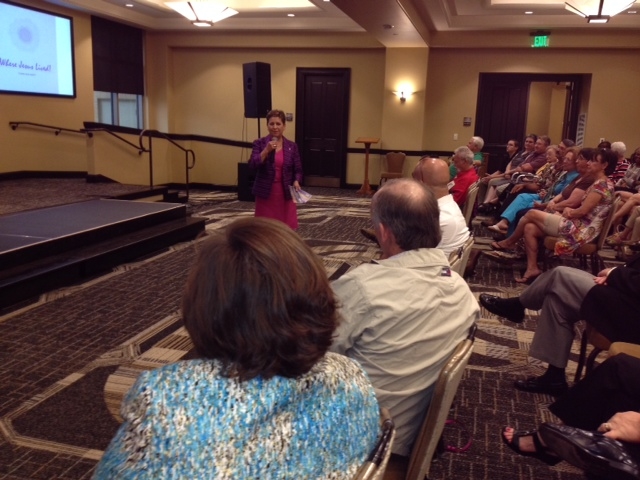 Bishop Cynthia Harvey introduces Wissam Salsaa before his presentation at First UMC, Baton Rouge
CONNECT WITH US
SUBSCRIBE TO OUR EMAILS
The latest news and information