CONNECT WITH US
SUBSCRIBE TO OUR EMAILS
The latest news and information
Brown to serve as Global Mission Fellow
July 22, 2014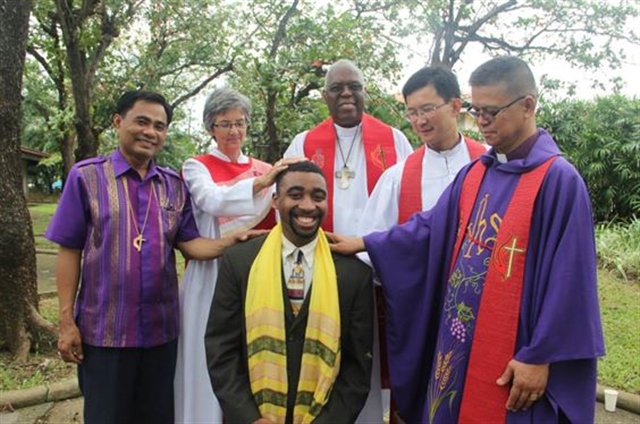 Arnold Vestal Brown, Jr., a member of Neeley United Methodist Church in Baton Rouge, was commissioned on July 19 as a United Methodist missionary, along with 41 other young adults from 11 different countries.
As a Global Mission Fellow, Arnold will serve for appropriately 20 months in China teaching English, and five months in the United States sharing his ministry experience with various church groups. Brown had recently completed training and spiritual formation in Tagaytay, Philippines in preparation for this role.
Arnold, Jr. is the son of Rev. Arnold Vestal Brown, Sr. who serves as pastor of Neely UMC. His mother, Doris Brown, is a former Director of the General Board of Global Ministries and its former Women's Division.
Brown graduated from Louisiana State University in 2013 attaining a Bachelor of Arts degree, with a major in Spanish and a minor in Mandarin Chinese.
"My faith journey with Christ started when I was five years old," Arnold says. "During my pre-teen years, I learned the importance of reading God's word and applying it to my life. In high school and college, I put my faith in action by witnessing Jesus Christ to others and serving."
Arnold sees his gift for learning languages as a great benefit in mission and communicating the Gospel. "This gift has opened the door for me to bridge the gaps of cultural differences," he says. "I believe my call to mission will involve my passion for learning languages, to help close the gap of racial and cultural difference, realizing we are one through Jesus Christ."
The Global Mission Fellows program takes young adults ages 20-30 out of their home environments and places them in new contexts for two years of mission service. The program grew out of the faith and justice emphases of the historic United Methodist US-2 and Mission Intern programs. Global Mission Fellows become parts of their new local communities. They connect the church in mission across cultural and geographical boundaries. They grow in personal and social holiness and become strong young leaders working to build just communities in a peaceful world.
"The joy of Arnold's sincere effort to seek, find and accept God's call to be a missionary cannot be expressed in words. We glorify God and are delighted," wrote his parents.
Arnold V. Brown, Jr. asks for your prayer support on his journey. Gifts to Advance #3021972 are also appreciated.

CONNECT WITH US
SUBSCRIBE TO OUR EMAILS
The latest news and information