CONNECT WITH US
SUBSCRIBE TO OUR EMAILS
The latest news and information
Pray for the Children: A message from Bishop Cynthia Fierro Harvey
July 21, 2014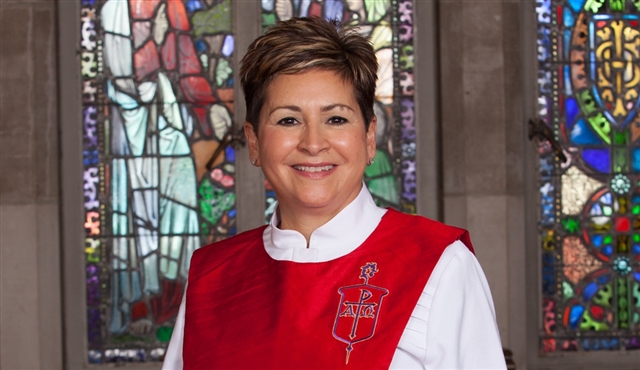 I have been watching the news and reading articles and letters that address the humanitarian crisis on the border. Thousands of unaccompanied children are filling facilities along the border and beyond.
As I read, I feel helpless. My tendency is to want to DO something. Should I send health kits, clothes, shoes? Something? Then I am reminded of my days at UMCOR when well-intended contributions would arrive after a hurricane or earthquake. We often referred to these contributions as the second disaster.
I was moved recently by a story shared by Rev. Dottie Escobedo-Frank after her visit to the border in Nogales, Arizona where many children are being housed and cared for (see http://umclead.com/1000-children/ ) She said, "We wanted to find out how the faith community could help. But, they are children who need to be protected from the public. We felt somewhat helpless for a moment." This is not about photo ops, and maybe not even about DOING but about BEING - BEING faithful followers in our response.
This is a humanitarian crisis beyond my ability to comprehend. I ask, "How could a parent pay someone, anyone, to take their children to the border by bus, truck and then place them in a small raft at the Rio Grande, or worse yet expect them to swim across the river into the hands of border agents?" The only answer I can even come up with is maybe, LOVE! They love their children so much they are willing to take their last dime and risk their lives and that of their children for the possibility of a better future; a future out of the hands of thieves, rapists, and violence. I have often thought that if I had no resources and my child was hungry, I would go so far as to steal to be sure my child was fed. Pretty drastic coming from a bishop, huh? But yes, I love my daughter so much I would risk my own life for her. Is this how these parents feel?
My colleagues in Texas have written a beautiful letter of response I pray that you will read it and heed their call. UMCOR is working to respond in a way that does not exploit, but instead responds to the needs of the children in way that maintains their dignity; they have already responded by providing emergency funds to the episcopal areas along the border. To help, you may give to the "US Disaster Response Advance #901670," with a designation on the check saying "For Children at the Border." Gifts can be given through your local church, or sent to the Louisiana Annual Conference, 527 North Blvd., Baton Rouge, LA 70802.
In the meantime, for us "doers," let us join in prayer. In 2012, we committed to pray each day at 1 p.m. I am inviting you to join me, daily, in setting your alarm once again for 1 p.m. And praying for at least one minute for these beautiful children and for the crisis at hand. We know what happens when 120,000 United Methodists across the state join in prayer!
I cannot help but think what might have happened if a young Telesforo Fierro, my grandfather, who was seeking a better life for his family, might have been detained and then returned to Chihuahua, Mexico.

CONNECT WITH US
SUBSCRIBE TO OUR EMAILS
The latest news and information