CONNECT WITH US
SUBSCRIBE TO OUR EMAILS
The latest news and information
Bishop Harvey to provide 'clarion call' at UM Global AIDS Fund Conference
July 21, 2014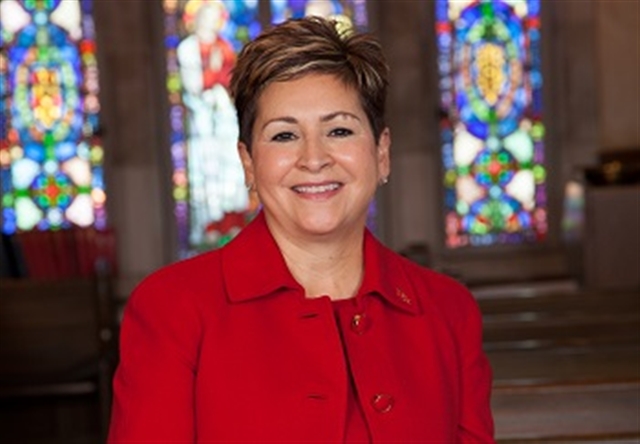 Bishop Cynthia Harvey from Louisiana will provide a clarion call to action to those gathered at the 5th United Methodist Global AIDS Fund Conference, Countdown to Zero: Just Save One, to be held Sept. 11-13, 2014 in Denver, Colo. Bishop Harvey is the episcopal leader in a conference that believes the AIDS pandemic must be eradicated and has taken action to make that happen.
Over the years, the Louisiana Conference, even in the wake of Katrina, mobilized thousands of dollars to support life-saving ministries around the globe through the United Methodist Global AIDS Fund in partnership with UMCOR.
"I am looking forward to the 'Countdown to Zero' Global AIDS conference. HIV/AIDS is an issue with many faces," says Harvey. "It is an issue that not only belongs to our culture; but even more importantly, it is an issue that belongs to the church, The United Methodist Church. My hope is that through events such as these we might raise awareness and allow the Holy Spirit to stir in us the 'What if?' question. What if we could just save one and then another, and another, and another, and ...?"
Every annual conference is being urged to send a representative to this event with the goal of equipping leaders to help further educate about and advocate for AIDS elimination and ways United Methodists can make a difference.
"We're excited about sharing information with conference attendees about the newly launched 'Just Save One' initiative of the UMC Global AIDS Fund (UMGAF)," says Linda Bales Todd, Co-chair of UMGAF. "We, as a denomination, have a real chance of greatly reducing the incidence of transmission of HIV from AIDS infected moms to their newborns through increased access to testing and anti-retroviral drugs for infected mothers," says Bales Todd.
"One of the tracks offered at this conference is for leaders in annual conferences — the 'Training the Trainer' track. We will be training conference representatives ways to expand their current AIDS efforts through education, advocacy and fund-raising."
Additional tracks include: "Native American Young People and Human Sexuality"; "Latinas por la Vida" (Latina for Life); and "Working Towards an AIDS-Free World."
The deadline for scholarship applications has been extended. Partial scholarships will be offered for three of the tracks (Native American Youth; Latina; and Training the Trainer). For information on scholarships, contact Linda Bales Todd, joylab47@yahoo.com. The deadline for accepting scholarship applications is July 25. The deadline for registering for the conference is August 15.
To register, go to umglobalaidsfund.com. For questions about the event, contact countdown@rmcumc.com.

CONNECT WITH US
SUBSCRIBE TO OUR EMAILS
The latest news and information