CONNECT WITH US
SUBSCRIBE TO OUR EMAILS
The latest news and information
A letter to the annual conference from Bishop Cynthia Fierro Harvey
July 02, 2014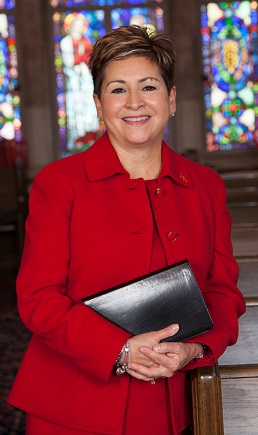 Wow! Just WOW! We had a great Annual Conference. I wanted to thank each and every one of you for your participation and your patience as we made significant changes to our work together, entering into a time of holy conferencing. It was great to see your engagement during our TED Talks as we learned from the TED presenters and from one another. I found the talks inspiring, and the questions posed challenging.

The retirement videos and ordinand videos captured a wonderful spirit of legacy as we share a common DNA. It was wonderful to hear the stories of those who have served diligently and the ones who are just beginning the journey.
The first ever Wesley Awards were not only entertaining and fun, but were also a great opportunity to celebrate the incredible ministry happening across the Annual Conference. The Academy Awards have nothing on us. The Wesley's were even highlighted by the United Methodist News Service. All the submissions are posted on the Conference website at http://www.la-umc.org/news/detail/1270.
I am thankful to the Annual Conference Design Team who spent endless hours planning and dreaming about this Conference. They made our dreams come alive and Conference was far beyond our expectations. The Team will meet in the next few weeks to debrief and to begin planning for 2015. As a matter of fact, my Annual Conference 2015 folder already has ideas in it.

Dean, Elizabeth and I are so thankful to be able to serve with you. I am indeed proud to say that I am the bishop in Louisiana. I will continue to pray for each of you, your churches and your families as we serve together to lead others to abundant life in Christ, engage in our communities, learn, live and tell the gospel story and reach-out and draw in people from all walks of life.

You are marvelously made!
Bishop Cynthia Fierro Harvey

CONNECT WITH US
SUBSCRIBE TO OUR EMAILS
The latest news and information