CONNECT WITH US
SUBSCRIBE TO OUR EMAILS
The latest news and information
Foundation rewards financial course grads
July 01, 2014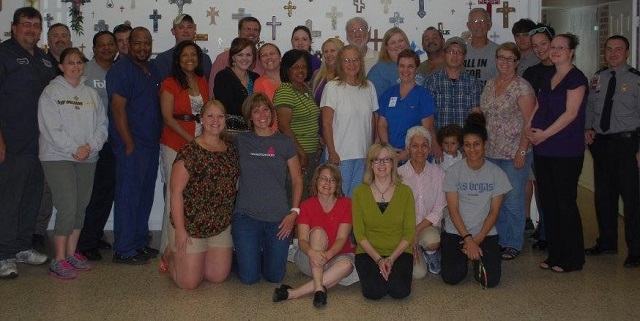 Earlier this month, the United Methodist Foundation of Louisiana awarded $333 to each of 23 families who completed Financial Peace University, a nine-week debt reduction class, offered by First United Methodist Church of Slidell.
Dave Ramsey's Financial Peace University, or FPU, is a life-changing program with a long history of helping families begin managing money God's way. The Foundation offers the incentive to churches in the Louisiana Conference to help them encourage more people to enroll in the class.
Why $333? The goal of FPU is to teach participants the skills to eliminate debt, save for the future, and give like never before. To obtain that goal, Ramsey outlines seven "baby steps," the first of which is to set aside $1000 for an emergency fund. The $333 each family receives gives them one-third of their emergency fund and energizes them to save the remainder.
The 23 families at First Slidell paid off more than $45,000 over the duration of the class, according to the end-of-course evaluations. Participants say they have begun making better financial decisions already, and feel that behavior change and discipline are hard, but well worth the effort. Some wished they had learned this information at an earlier age.
Katie Rowley, who coordinated the effort on the church's part, says, "I am excited about what this class will do for our church as well as our community. I have already seen it start to change the lives of many."
Several churches in the Louisiana Annual Conference have joined with the Foundation to offer this incentive program. They include University UMC of Lake Charles, First UMC of Gonzales, Welsh Memorial UMC of Vinton, First UMC of Crowley, and the first participant, Squyres UMC in Ragley (in 2010).
If your church would like to host an FPU class, find more information at www.daveramsey.com.
To offer the Foundation incentive to your participants, contact the Foundation at information@umf.org. Participants must attend at least eight of the nine classes, complete all homework and a course evaluation, and the church must agree to provide debt reduction statistics, a class photo and completed course evaluations to the Foundation to receive the incentive funds.

CONNECT WITH US
SUBSCRIBE TO OUR EMAILS
The latest news and information