CONNECT WITH US
SUBSCRIBE TO OUR EMAILS
The latest news and information
New Orleans youth center receives $119,600 for work with at-risk youth
June 30, 2014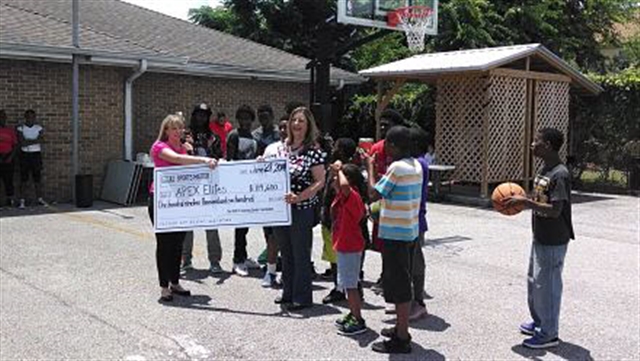 Rev. Lisa Fitzpatrick, co-founder of the APEX Youth Center in New Orleans and a 2013 CNN Hero, has been recognized again for her groundbreaking work with decreasing violence among youth in a city that ranks third among the deadliest in the nation.
Through its Sports Matter initiative, Dick's Sporting Goods recently presented a check for $119,600 to the youth center, located at Simon Bolivar Avenue and St. Andrew Street in one of the most crime-ridden neighborhoods in New Orleans.
In addition to the gift from Dick's Sporting Goods, APEX received a gift in November of 2013 from 5 Hour Energy. Naming Fitzpatrick as an "Amazing Person," Fitzpatrick received, on behalf of APEX, a gift of $50,000 to further the ministry of the youth center.
Fitzpatrick and her team of volunteers extend love and the concepts of conflict resolution to a number of the city's at risk children, youth and young adults. "Reconciliation, never retaliation" is the organization's motto, said Fitzpatrick, who also serves St. Paul United Methodist Church in Harahan and Hartzell UMC in New Orleans.
The presentation of the $119,600 gift to APEX Youth Center received a significant amount of news coverage in the New Orleans area. Here are a few links to these stories which give more information about Rev. Fitzpatrick and the mission of the APEX Youth Center:

http://theadvocate.com/sports/9587783-32/walker-offering-hope-apex-youth
http://www.fox8live.com/story/25896455/central-city-youth-center-gets-big-payday-from-dicks-sporting-goods
http://wgno.com/2014/06/29/one-victim-brushed-by-a-bullet-plans-to-stop-violence-with-basketball/

CONNECT WITH US
SUBSCRIBE TO OUR EMAILS
The latest news and information