CONNECT WITH US
SUBSCRIBE TO OUR EMAILS
The latest news and information
Pineville UMC assembles, delivers UMCOR cleaning buckets to Sager-Brown Depot
June 18, 2014
A total of 23 volunteers from Pineville United Methodist Church recently set out on a "road trip" to UMCOR Sager Brown in Baldwin, La. with the mission of delivering cleaning buckets to the depot.
"I have been to UMCOR Sager Brown several times before, but I learned so much about the history of the place this time! It was remarkable," said Cliff Kelley, chair of the church's "Don't Mention Age" program. Kelley and others in the group learned more about the facility, noting that Mrs. Sager and Mrs. Brown, both from New York, were so inspired by the children's choir from a post-Civil War orphanage in New Orleans that they arranged the purchase of land on Bayou Teche in Baldwin, La. for the future home of a new orphanage and school. That facility eventually became a collection and distribution point for relief supplies distributed by the United Methodist Church.
For several years, First UMC in Pineville has collected funds for UMCOR cleaning buckets. Valued at about $55 each, each bucket is full of cleaning supplies to be used after a natural disaster. A total of 29 buckets were assembled by church members.
While at the depot, the group toured the facility's huge warehouse, unload their buckets, and enjoyed a family-style lunch with the volunteers from Tennessee, Oklahoma and Texas who are currently helping out at Sager-Brown.
"It was so interesting to see the process of collecting and storing the cleaning buckets, school kits, midwife kits and personal hygiene bags which our church distributes all over the country, and to many parts of the world." said Fred Carter, president of Pineville's United Methodist Men. "I am proud that our wider church community anticipates the needs of our neighbors and tries to be prepared. When a disaster strikes, the UMCOR trucks go out almost immediately!"

Marsha Reed, Missions Committee member, said, "One of the most moving parts of the day was in the sewing room, where we met a woman from Moore, Oklahoma making baby blankets. She told us she'd volunteered several times in the past to work at Sager-Brown - but last year she was on the receiving end after the terrible tornadoes in Moore. It meant so much to her to see those cleaning buckets arriving from UMCOR Sager-Brown, sent from the very site where she'd worked in the past. It really brought home to us that sometimes in life we're on the giving end, and sometimes on the receiving end, and that God works through all of us."
Find out more about the UMCOR Sager Brown Depot at http://www.umcmission.org/Give-to-Mission/Search-for-Projects/Projects/901515 or call (337-923-2027) to find out the lists of various supplies, and information about tours and ways your church can help.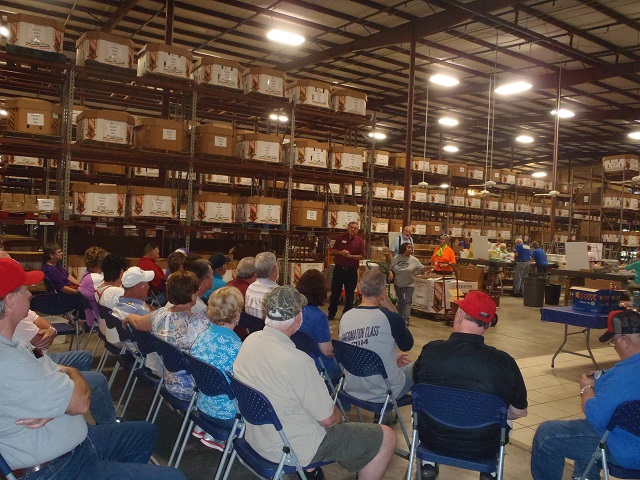 CONNECT WITH US
SUBSCRIBE TO OUR EMAILS
The latest news and information