CONNECT WITH US
SUBSCRIBE TO OUR EMAILS
The latest news and information
No, it's not The Oscars . . . it's The Wesleys!
June 11, 2014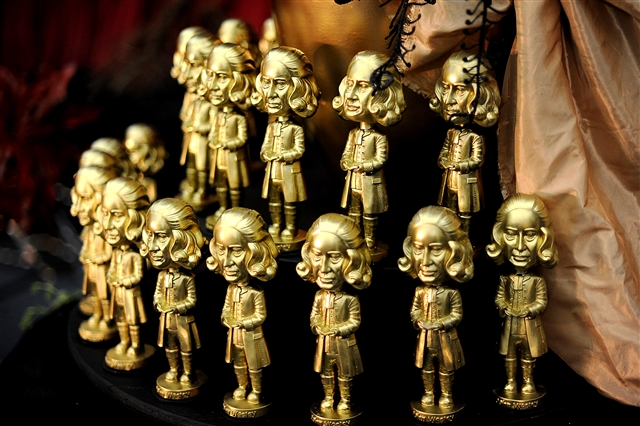 Was that Billy Crystal? No, it was our very own Rev. Matt Rawle serving as host to the first ever "Wesley Awards," held Tuesday night of Annual Conference.
Winners of the award (a.k.a John Wesley bobbleheads!) hailed from United Methodist churches from throughout the Louisiana Conference, recognized for implementing creative ministries that embody our Conference Core Values and Preferred Vision. Ministries that were lifted up were submitted for review prior to the 2014 Louisiana Annual Conference. And here are the winners!
Lifetime Achievement award: United Methodist Foundation of Louisiana
Established in 1975, the United Methodist Foundation of Louisiana began with the scriptural concept of the "mustard seed." It all began with a $5,000 check that was given to Bishop Finis Crutchfield and Dr. Jimmy Caraway, the first acting chairman of the Foundation, by Mrs. Cadwallader. The funds under management by the Foundation as of the end of 2013 number $145,393,797.
Louisiana's United Methodist Foundation is among the top Foundations throughout the United Methodist connection, in both size of funds managed and in the services and ministries provided. Under the leadership of Rob Fairly, Jr., the institution provides guidance to local churches, Conference institutions and individuals in investing for the future, as well as the present. Among the services provided are planned giving education and opportunities that benefit the United Methodist church or ministry; loans to local churches and the Louisiana Annual Conference; grants for clergy and lay leadership; seminary service loans to offset the cost of seminary education; and other Louisiana Conference ministries. The Foundation also sponsors a program for younger clergy (Advancing Pastoral Leadership, or APL); one for more seasoned clergy (Leadership Excellence Advancement Program, or LEAP); and Cabinet retreats with Dr. Gil Rendle, author and consultant.
The Foundation believes in the Biblical concept of "the tithe." In fact, they double tithe, with 20% of the internally generated gross operating funds going toward ministry programming throughout the Conference.
Lifetime Achievement award: Lydia Patterson Institute
In 1913, Lydia Patterson, a Methodist Missionary acting through the Women's Society of her church, noticed that young Hispanics in Segundo Barrio in El Paso, Tex. had no school to attend. She began to set up schools in the homes of some Mexican Methodists.
Her spirit and vision are still alive today at Lydia Patterson Institute (LPI), a mission program of the South Central Jurisdiction. Presently, more than 400 young men and women, a majority of whom are from Ciudad Jua'rez, continue to be educated in a rigorous academic environment while being nurtured in Christian values. LPI was one of the first schools in the United States to emphasize the teaching of English as a Second Language in 1921, and to then merge students into the appropriate grade level to put them on the path toward graduation from high school.
Affectionately known as "La Lydia," the school includes grades 9-12. These students travel across the border from Mexico every day to attend LPI. It is normal for students to spend two hours commuting to school and two returning home each school day. They also work at least one hour following the school day to assist in the care of the school facilities.
Ninety five percent of the school's graduates go on to attend college with assistance from academic scholarships. LPI graduates have also attended Centenary College, a United Methodist institution in Shreveport.
First UMC, Alexandria
PUB THEOLOGY: Learning, living and telling the gospel story to the nations
Every Thursday night, members of First UMC visit Finnegan's Wake, a local pub, armed not with tracts and Bibles, but with open hearts and minds and a specific theological theme. A selection of quotes, questions and readings are provided on a handout to help stimulate conversation with pub patrons. Conversations, which typically last for 90 minutes, can stretch on after the session is over. Recent discussion themes have included mental health and "why does Jesus matter?" Since its launch in December of 2013, Pub Theology has seen a growing number of regular participants, folks who are not active in a local church.
LAUNDRY LOVE: Engaging with our surrounding communities locally and globally in significant ways
Once a month, Mohammad Hafez, owner of a local laundromat, welcomes a team from First UMC, Alexandria knowing that his patrons will be blessed. The volunteers arrive with smiles, coins, brown bag meals and games for any children accompanying their parents. Patrons load their clothes into washers and dryers; First UMC members provide detergent and quarters. As the machines clean clothes, church volunteers build relationships with the patrons. Some volunteers even provide transportation for those that have none. For more information on Pub Theology and Laundry Love, call Rev. Donnie Wilkinson, (318) 542-1022.

Asbury UMC, Bossier City
RENESTING PROJECT: Engaging with our surrounding communities locally and globally in significant ways
"Reclaim, Renew, Renest" is the motto of Asbury UMC's ministry which gathers gently used furniture and household items, cleans and repairs the items, and distributes those items to persons transitioning from homelessness, at no cost to them. The items are stored in a 5,000 square feet warehouse. The ministry partners with local service agencies to obtain screening, documenting, securing of housing and acquisition of a list of needs for each client. In 2013, the Renesting Project provided assistance to 225 people, helping them to get a "new start." For more information, call Rev. Ramonalynn Bethley and (985) 259-1128.

First UMC, Baton Rouge
WORSHIP AT CYPRESS MOUNDS: Learning, living and telling the gospel story to the nations
In a culture that no long "protects" Sunday as a day of worship, parents often feel conflicted by the tension between sports commitments and church on Sunday. Worship services offered by First UMC at the Cypress Mounds baseball complex allows families to gather starting at 8 a.m. before baseball games begin. Parents and kids hear a message, scripture and music during the shortened service. Through this ministry, the church is coming into contact with families they might not have reached, otherwise. Attendance has exceeded 200 people, and social media outreach has reached 1,000 plus persons.
THE AMERICA STREET SERVICE: Reaching out and drawing in people from all walks of life resulting in vibrant, alive and vital congregations
This "out of the box" approach to worship provides a more participatory, engaged format for those seeking alternatives to traditional services. This additional worship service at First UMC is unique because of the use of social media as a formation tool within the service, with participants "tweeting" prayers, experiencing live feed of comments during sermons, and other non-traditional elements. Social media are used as an evangelism tool outside of the service, sharing location, videos and testimonies as the service is happening. Preachers use the same sermon series for the America Street and First UMC's traditional services so that the community can discuss what they have heard as they meet in classrooms and fellowship. For more information about Worship at Cypress Mounds and the American Street Service, call Rev. Katie McKay Simpson at (225) 936-6125.
GOT ASHES?: Learning, living and telling the gospel story to the nations
Taking the love of Jesus "to the streets," First UMC carries ashes out to public areas in Baton Rouge on Ash Wednesday. Locations are secured and teams of laity and clergy administer the ashes at these sites at noon and at 5 p.m. This past Ash Wednesday, 75 people received ashes and blessings, many of whom are not "church goers." For more information about Got Ashes?, contact Becky Poor at (225) 921-2739.
Chatham UMC, Chatham
FUN IN THE SON: Leading others into abundant life in Christ
Sixty-five percent of families in the local community served by Chatham UMC live beneath the poverty level. Recent cuts in school enrichment programs have created a need for these families. To continue ministry throughout the summer with the 50 Kindegarten-8th grade students served by the church's Homework Helper tutoring ministry, Chatham UMC created a week-long art camp for the children. In addition, with the help of a Red Cross instructor, swimming lessons are offered to the kids at a local private pool. Chatham's latest addition to its list of summer activities is a Praise Camp, where children participate in musical movement and rhythmic expression as part of worship. All of the camps are led by certified experts and staffed by church volunteers. Activities are offered at no cost to participants. For more information, contact Rev. Lala Ball Cooper at (318) 243-3616.
Douglas UMC, Ruston
ADOPT A SCHOOL MINISTRY: Engaging with our surrounding communities locally and globally in significant ways
Choudrant High School has a good friend in Douglas UMC. The church facility is host to the school for state testing, club banquets and sports banquets. Church members serve as mentors students, and frequently provide needed items such as glasses, uniforms and backpacks. The church has a prayer presence on campus during testing week, and the pastor is invited to speak at Fellowship of Christian Athletes meetings. Chatham sponsors an annual pizza party for students with a 3.0 grade point average at the end of the school year, with a drawing for gift cards. Close relationships continue to build between school staff and church members. For more information, contact Rev. Jeremy Jones at (225) 240-3433.
Hope Community UMC, Baton Rouge
ABC INSTITUTE OF LEARNING: Engaging with our surrounding communities locally and globally in significant ways
In the city of Baton Rouge, the 70805 zip code is marked by poverty and violence. More than one third of the area's residents are under the age of 18. In response to significant needs of community it serves, the congregation of Hope Community UMC offer practical help to neighbors through its ABC Institute of Learning. Now in its fifth year, the tutoring program is held every Tuesday and Thursday during the school year for two hours per session. Students in Kindergarten through 12th grades are assisted with homework assignments and provided computers and school supplies, with a focus on preparing for LEAP testing. The end of the school year was highlighted by a book giveaway.
H.O.P.E. SUMMER CAMP: Leading others into abundant life in Christ
Staffed by volunteers from the church and surrounding community, H.O.P.E. Summer camp ministers to the mind, body and spirit off children ages 5-15 from 7 a.m.-4:30 p.m. during June and July. Children participate in a morning devotion, Christian education, academic tutoring, arts and crafts, and physical activities. The BREC Mobile Playground is a big attraction for the kids, as well as visits from the local bookmobile. Highlights are field trips, movies, kite making, constructing corncob dolls and learning to "play jacks with the pastor." Last summer, there was great excitement when the children had a visit from the pastor's pet chicken, Liz! For more information about ABC Institute of Learning and H.O.P.E Summer Camp, contact Rev. H. Louis Jones at (225) 938-9615.
St. Francisville UMC, St. Francisville
REGIONAL GED GRADUATION CEREMONY: Engaging with our surround communities locally and globally in significant ways
In May of 2013, St. Francisville UMC hosted a regional GED graduation ceremony for East Baton Rouge Parish and its surrounding parishes at the West Feliciana High School Auditorium. Volunteers from the church coordinated and hosted a reception after the ceremony, providing a place of fellowship and celebration for 165 graduates and their families. The church plans to host again in 2014. For more information, contact Mike Clark at (225) 747-0124.
St. Mark UMC, Opelousas
ANGEL'S CAREGIVERS SUPPORT GROUP: Engaging with our surrounding communities locally and globally in significant ways
Many people find themselves in the role of caregiver for loved ones who are struggling with cancer, Alzheimer's, dementia, mental illness and serious illnesses. St. Mark UMC provides a quarterly opportunity for these caregivers to receive support, prayer and fellowship. More than 150 caregivers have received love and support through this ministry that reaches out to the Opelousas community. For more information, contact Rev. Darlene Moore at (337) 948-2064.
First UMC, Thibodeaux
MINISTRY WITH CHILDREN AND THEIR FAMILIES: Learning, living and telling the gospel story to the nations
Through an intentional focus on ministry with children and their families, and strengthening the connection between the church and its preschool, the average worship attendance at First UMC has increased from 87 to 147 in just four months. In addition to an increase in worship attendance, giving has increased and additional Sunday School classes for children and youth have been added. By shifting its focus, First UMC in Thibodeaux has found new energy and excitement for sharing the Gospel and for following God's vision and mission for their community. For more information, contact Rev. Ray Varnado at (985) 447-4287.
University UMC, Lake Charles
CIRCLE UP: Learning, living and telling the gospel story to the nations
Circle Up is a biblically based support group for those experiencing mental health issues. Members meet once a week for biblical literacy and life application skills. What started as a group separate from the congregation has now become a fully integrated part of the church's life, with members from Circle Up attending worship, Sunday School and other church activities. It is truly a ministry of the church welcoming all. For more information, contact Mickey Shannon at (337) 540-7813.
First UMC and McGuire UMCs, West Monroe
FREESTORE: Engaging with our surrounding communities locally and globally in significant ways
First UMC and McGuire UMCs have teamed up to bring gently used clothes to those in need in West Monroe. The program provides garments and allows church volunteers to establish relationships people in the communities visited by the FreeStore trailer. This traveling clothes closet brings together people from different churches and different communities, freely sharing their resources with others who are in need. For more information, contact Shawn Hornsby at shawn@fumcwm.org
Reveille UMC, Monroe
HOPE RESTORED COMMUNITY CENTER: Reaching out and drawing in people from all walks of life resulting in vibrant, alive and vital congregations
Hope Restored Community Center offers multiple services to persons with addictions. These services include instruction in job readiness, basic computer skills, parenting and life skills, household management and sober living. This work assists the addicted person, their family members, and the community as a whole. This ministry is reaching outside of the four walls of the church into the community.
Noel Memorial UMC, Shreveport
HIGHLAND BLESSING DINNER AND ADULT LEARNING CENTER: Learning, living and telling the gospel story to the nations
Collaborating with other local faith communities and nonprofits, Noel Memorial UMC serves a respectful and relational dinner weekly to guests from the community. This ministry has served thousands of meals to community members, breaking down barriers between people in the neighborhood and between churches. Noel has also facilitated an Adult Learning Center where people of ages 18-55 have studied and earned their GED. In addition, the church offers a Community Arts Program, helping people discover and develop their God-given talents through the arts.

Lea Joyner Memorial UMC
CHANGE TO MAKE A CHANGE: Reaching out and drawing in people from all walks of life resulting in vibrant, alive and vital congregations
Once a month, the church invites guest speakers from a local community programs and projects like the local food bank, soup kitchen or battered women's shelter. A representatives from the selected program presents information about their service to the community during Lea Joyner Memorial's worship service. Church members contribute their change, coins or silent change (ones, fives, tens), with 100 percent of the collection going to that program. Church members often volunteer to help the agency with its work. Since July of 2013, Change to Make a Change has donated more than $8,000 to local community services. For more information, call (318) 343-0073.
Lakeview UMC, Shreveport
COMMUNITY SERVICE SUNDAY AND CREATIVE CRAFTERS: Engaging with our surrounding communities locally and globally in significant ways
Through Community Service Sunday, members of Lakeview UMC bake cookies to take to homebound members or to firefighters in the community; clear large limbs from a nearby park; visit the children's unit at the local hospital, sharing gifts and time with patients; and visit local nursing homes, delivering mini-loaves of banana bread Upper Room magazines, and entertaining residents with music. Creative Crafters, based in the church's UMW unit, provides hand-crafted items to area hospitals. For more information, call (318) 635-5617.
Lacombe UMC, Lacombe
ZIP PACK MINISTRY: Reaching out and drawing in people from all walks of life resulting in vibrant, alive and vital congregations
Members of Lacombe UMC assemble one gallon zip lock bags filled with nonperishable foods to send home with identified students from the local middle school. The fresh fruit, crackers and milk provide nourishment to students who have nothing to eat during the last week-end of each month. School administrators select the students and help the church by sending home permission forms to parents, explaining the program. The food bags are placed in plain green bags so that other students cannot see the contents. For more information, call (985) 882-5781.
Rayville UMC, Rayville
GOLDEN ARCHES MINISTRY:
Rayville United Methodist Church in the Monroe District is using social media to reach out to area youth in building attendance for a weekly breakfast at the town's McDonald's restaurant. The gatherings are held on Thursday mornings from 6:45-7:40 a.m. Church youth have been inviting their peers to attend the meetings, which include breakfast, prayer and a devotion. Over a period of eight months, the ministry has grown to reach four communities and four schools, both public and private.

The following is the list of all submissions for the Wesley (Bomb-diggity) Award:
| | | |
| --- | --- | --- |
| Alexandria FUMC | Lake Charles | Laundry Love |
| Alexandria FUMC | Lake Charles | Pub Theology |
| Asbury UMC (Bossier) | Shreveport | Renesting |
| Asbury UMC (Lafayette) | Acadiana | Children's Ministry |
| Baton Rouge FUMC | Baton Rouge | The America Street Service |
| Baton Rouge FUMC | Baton Rouge | Got Ashes? |
| Baton Rouge FUMC | Baton Rouge | Worship @ Cypress Mound |
| Chatham UMC | Monroe | Fun in the Son |
| Columbia UMC | Monroe | Fasting & Feasting |
| Douglas UMC | Monroe | Adopt a School |
| Epps UMC | Monroe | UMW |
| Farmerville UMC | Monroe | Upcoming VBS |
| Holly Ridge UMC | Monroe | 5th Sunday Singings |
| Hope Community UMC | Baton Rouge | ABC Institute of Learning |
| Hope Community UMC | Baton Rouge | HOPE Summer Camp |
| Jackson UMC | Baton Rouge | Helping In His Name Food Bank |
| Lacombe UMC | New Orleans | Zip Pack Ministry |
| Lacombe UMC | Shreveport | Community Service Sunday |
| Lea Joyner UMC | Monroe | Change to Make a Change |
| Lea Joyner UMC | Monroe | Trick or Trunk |
| Memorial UMC | Monroe | Adopt Elementary School |
| New Church UMC | New Orleans | Visioning |
| New Iberia FUMC | Acadiana | Discipleship |
| Noel Memorial UMC | Shreveport | Adult Learning Center |
| Noel Memorial UMC | Shreveport | Community Arts Program |
| Noel Memorial UMC | Shreveport | Highland Blessing Dinner |
| Parker Memorial UMC | New Orleans | School for Contemplative Living |
| Pineville FUMC | Lake Charles | Adopt Pineville Youth Center |
| Rayville UMC | Monroe | Church of Golden Arches |
| Reveille UMC | Monroe | Hope Restored Community |
| Salem UMC | Monroe | Evangelism, Invitational |
| St. Francisville UMC | Baton Rouge | Regional GED Graduation |
| St. Mark UMC | Acadiana | Angels Caregivers Support Group |
| Thibodeaux FUMC | Acadiana | Cultivating a Culture of Invitation |
| Tunica UMC | Baton Rouge | Revitalization |
| University UMC | Lake Charles | Circle Up |
| Wesley Center | | Hospitality |
| West Monroe FUMC and McGuire UMC | Monroe | Free Store |
CONNECT WITH US
SUBSCRIBE TO OUR EMAILS
The latest news and information