CONNECT WITH US
SUBSCRIBE TO OUR EMAILS
The latest news and information
Registration opens for Imagine What's NEXT 2014
April 28, 2014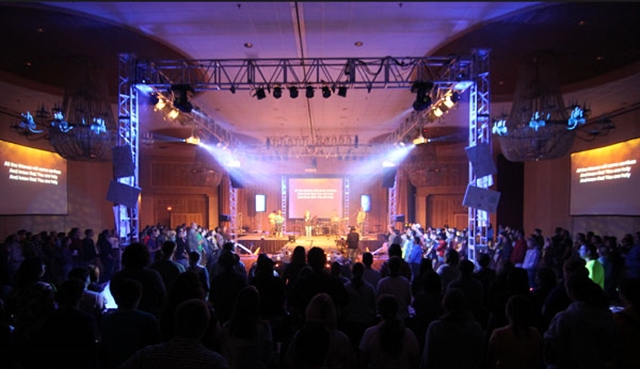 For college students, looking into the future can seem daunting or overwhelming. But what would happen if 600 Methodist college students gathered to listen to God's call on their lives and to discern where God beckons them? What if vocation meant the creative arts, mission and service, theological education, and radical hospitality? What if you partnered with others to make a difference in the world now?
Imagine What's NEXT is designed by and for students to facilitate this fertile ground for imaginative work, focused specifically on the spaces where church/world and present/future meet. Scheduled for Nov. 7-9, 2014, in Denver, Colo., the event is organized by a launch team of college students, campus ministers, and other creative disciples from across the United Methodist connection, and is sponsored by the General Board of Higher Education and Ministry's Division of Higher Education.
"The inaugural NEXT in 2012 successfully created space for students to explore and integrate faith, creativity, and action. This year we're going even deeper. We've strengthened the small group process with access to experts in students' fields of interest and a process for discernment and planning," said Beth Ludlum, director of Student Faith and Leadership Formation at GBHEM.
All United Methodist college students, campus ministers, and chaplains are encouraged to participate in NEXT for a weekend of fellowship, worship, and inspiration.
Through a series of short talks, speakers and leaders will discuss innovative discipleship and will challenge students to consider their own next steps in their communities and future vocations. Students and leaders also will engage in dynamic worship, imaginative play, and small group discussions. The event this year includes a service plunge and worship concert in downtown Denver on Saturday night.
Following NEXT, a new six-week Bible study curriculum will be released to help participants and others capitalize on the event's momentum and identify ways to make a difference on their campuses and communities.
"I think NEXT is unique because its optimism is grounded in pragmatism. It encourages wild imagination as holy activity or spiritual practice. It's realistic because Beth and the launch team emphasize praxis alongside divine encounter," said Bridgette Young Ross, GBHEM's assistant general secretary for Campus Ministry and College Chaplaincy.
The speaker application, open until April 30, is for any student, campus minister or chaplain, or religious, nonprofit, or business leader who has a creative idea to share or a ministry or social entrepreneurial plan from which others can learn. Speakers and worship artists will be announced in July.
CONNECT WITH US
SUBSCRIBE TO OUR EMAILS
The latest news and information