CONNECT WITH US
SUBSCRIBE TO OUR EMAILS
The latest news and information
Multicultural worship is focus of conference
April 21, 2014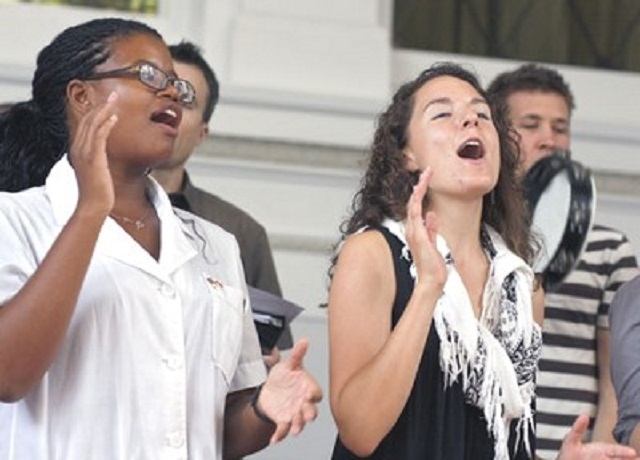 More and more of Louisiana's United Methodist churches are located in multicultural neighborhoods, presenting new challenges in reaching out and "engaging with our surrounding communities in significant ways." These multicultural communities represent an incredible opportunity to create churches which are more representative of the Kingdom of God.

The General Board of Global Ministries, in collaboration with First UMC in Kenner, Gretna UMC, Saint Mark's UMC and First Grace UMC, both in New Orleans, are organizing Multicultural Journeys in Worship in response to these new challenges. The event will be held May 9-10 at First Grace UMC, 3401 Canal St, New Orleans. The conference begins at 4 p.m. on Friday and concludes at 4 p.m. on Saturday.

Registration is $30 per person, with a maximum cost of $100 per church, where the church can bring "as many team members as you like." Checks can be sent to First Grace UMC, 3401 Canal St., New Orleans, LA 70119. Questions? Call the church at (504) 488-0856. Deadline for registration is May 5!

One Body: Multicultural Journeys in Worship

After these things I saw a large crowd from every nation, tribe, people, and language.
No one was able to count how many people there were.
They were standing in front of the throne and the lamb.
Revelation 7:9 (God's Word Translation)

This unique training is designed to assist and accompany local congregations in their journey towards God's dream of the beloved community. We endeavor to help congregations identify who is "inside," who is "outside" and how to think about and plan worship in a way that welcomes, speaks and nourishes both those who are "outside" and those who are "inside" while at the same time creating space where their gifts may be honored and shared for the benefit of the whole community.

For some congregations, a more diverse ethnicity is the main challenge, for others, a more diverse economic/social status, for others a better balance of gender, for others it's about a wider age spectrum, for others, it's about welcoming seekers, for others is about GLBTQ, and so on. There is always an "other" in our communities whose presence and gifts are crucial as we continue the sacred journey toward the beloved community. The principles offered and practiced in the workshop work across the lines.

Through our experience in developing these events we have discovered some key points:

Congregations should come as a team, not as individuals. This team should include the congregation's pastor and main person in charge of music. The rationale is that if transformation is to happen, the "buy in" and participation/experience of multiple leaders at the training is needed. The experience of planning and leading multicultural worship services (including preaching) as part of the training provides the teams with a glimpse of what is possible in their own locales.
Sufficient time for the process to happen. As opposed to most workshops, this training involves the participants actually designing and leading worship services. Time is needed to first set the theological groundwork, followed by the technical, followed by the group planning, followed by the actual engagement in the services, followed by feedback. The schedule that has worked best has been meeting on Thursday evening thru Saturday noon.
A small ratio of participants and faculty. This is crucial so that everyone attending participates fully and questions, concerns, and so on that may rise be engaged in honest discussion. We have found that a total of 35 participants is optimal.
There is the possibility of continued coaching in the year following the event at no additional cost for those who desire it!
Hotel Accommodations
New Orleans Marriott Metairie @ Lakeway (Causeway Blvd. to I-10), 3838 N. Causeway Blvd., Metairie, LA 70008; phone, (504-836-5253); ask for Courtney Luquet in Group Sales; toll free, (866) 882-4377
French Quarter Suites Hotel, 1119 North Rampart Street, New Orleans, LA 70116; $159.14, tax included
CONNECT WITH US
SUBSCRIBE TO OUR EMAILS
The latest news and information