CONNECT WITH US
SUBSCRIBE TO OUR EMAILS
The latest news and information
Conference team members reflect on visit to Lydia Patterson Institute
April 08, 2014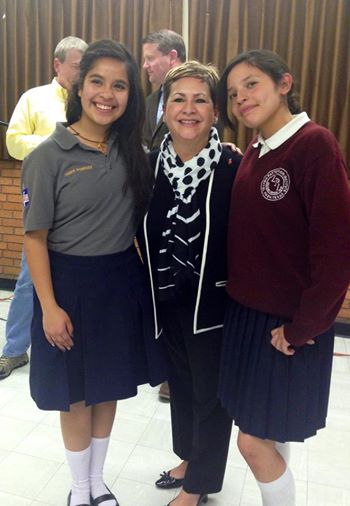 Bishop Cynthia Fierro Harvey and a small contingent from the Louisiana Annual Conference strengthened relationships with the Lydia Patterson Institute in El Paso, Tex. during a recent trip to the school. The Lydia Patterson Institute (LPI) is a United Methodist nonprofit institution of learning dedicated to providing quality bilingual cross-cultural academic education.
Accompanying her were Revs. Elaine Burleigh, Jan Curwick, James Mitchell, Wybra Price, Van Stinson, Brady Whitton, Fred Wideman and Donnie Wilkinson along with Rob Fairly, Dean Harvey and Rachel Scott.
Rev. Price wrote a brief reflection on his experience during the visit to the institute: "Lydia Patterson Institute, a ministry of the South Central Jurisdiction for over 100 years, has an outreach to young men and women of the El Paso, Texas and Juarez, Mexico communities. This greater metropolitan area of nearly 3 million souls is ripe for learning and faith development. On a recent tour of Lydia Patterson (La Lydia) with other colleagues from Louisiana, I was touched by the eagerness of the students to learn and share. While working at a construction mission from Noel Memorial UMC in Juarez, Mexico, I took a day to learn about the powerful ministry and mission of La Lydia. Growing up Methodist, I had heard about Lydia Patterson for a number of years and witnessed Dr. D'Anda (president of LPI) nearly every year share at our Louisiana Annual Conference. Though I knew about Lydia Patterson (La Lydia), I did not know La Lydia.
"On an early midweek morning, I met on the Juarez, Mexico side of the border and walked across the bridge spanning the dry bed of the Rio Grande River and through United States Customs into El Paso, Texas. From the border, we walked the seven blocks to La Lydia experiencing a typical day in the life of a student at this place of learning and faith development. The only change is that I did not begin my journey at 4 a.m. like many of the La Lydia students. During my visit, I was touched by the dedication of the students, faculty and staff, and the extreme sacrifice many of them, their parents and family make to provide learning for the future. As United Methodists, we help make this possible through apportionments, scholarships and mission teams. As La Lydia moves into its second century of ministry and mission, I hope you will join me and others as we help renovate, modernize and expand the ministry offering to this border community. Louisiana United Methodist have been asked to join with other conferences to underwrite the construction of a new chapel to be used for weekly worship and celebrations. The existing chapel, built in the 1960s, can no longer accommodate all the students, faculty and staff. Please help spread the news and share the story of our friends and neighbors to the west."
Rev. Burleigh had this to say about her experience at LPI: "I have never seen the Gospel come alive more clearly than at the Lydia Patterson Institute. There, the students are hungry for an education, the staff is determined to make each child feel loved, and the teachers give everything they have to show their students the love of Christ. Certainly, La Lydia is what Jesus meant when he spoke of the Kingdom of God."

CONNECT WITH US
SUBSCRIBE TO OUR EMAILS
The latest news and information