CONNECT WITH US
SUBSCRIBE TO OUR EMAILS
The latest news and information
Conference group making 100 mile pilgrimage, Camino de Santiago
April 02, 2014

The Camino de Santiago is an ancient pilgrimage with origins throughout Europe to the Cathedral at Santiago de Compostelo, where it is believed the remains of St. James are housed.
On May 20, several clergy and lay members of the Louisiana Annual Conference embarked on a portion of this pilgrimage. Revs. Larry Norman, Ann Sutton, Nancy Wofford and Dawn Young are joined by Kip and Linda Holloway of Asbury UMC in Bossier City, and by Steve Byrd from Houston and Maddie Wright and Helen Wolf from Australia on the Via de la Plata from Orense to Santiago.
The Via de la Plata (Silver Way) is the pilgrimage that typically begins in Rome, and would have been the one taken by pilgrims from Catholic Church hierarchy. This hiking journey will take approximately 10 days and cover nearly 100 miles. Upon arrival in Santiago, the group will attend the Pilgrims' Mass at the cathedral, and will take a side trip to Finisterre, the "end of the earth."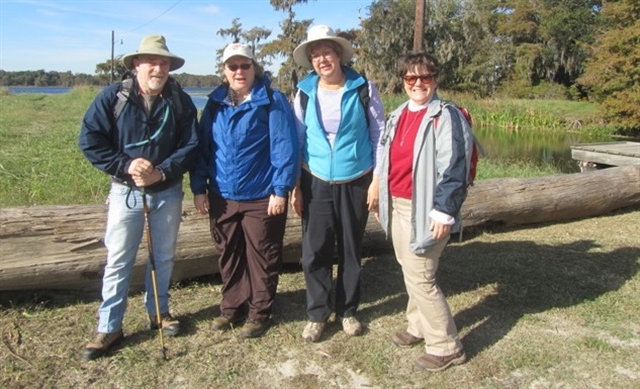 Revs. Larry Norman, Dawn Young, Ann Sutton and Nancy Wofford shown during recent practice hike
The group has been training for approximately a year for the journey, taking practice hikes and learning to navigate with a backpack. Last month, most of the participants from the United States met at the Wild Azalea Trail in Central Louisiana and hiked 13.3 miles one day, and 6. 4 the next. The training has also included reading books on pilgrimages and the Camino.

There are several ways you can follow the group on their pilgrimage. First, they will have an open Facebook page in May, Buen Camino 2014. Second, Rev. Young will be blogging about the journey on her blog "Searching for thin places" (www.searchingforthinplaces.com). Also, you can purchase the devotional written specifically for the pilgrimage. It is available from www.lulu.com (search for Camina, Pueblo de Dios). The cost of the book is $8, plus shipping. It provides an itinerary for the group, with Bible readings, quotes and brief devotionals. Cover art for the book was created by Rev. Ann Sutton.
Please hold this group in your prayers as they embark on this pilgrimage--and take the opportunity to virtually participate! Find devotional book here.
CONNECT WITH US
SUBSCRIBE TO OUR EMAILS
The latest news and information