CONNECT WITH US
SUBSCRIBE TO OUR EMAILS
The latest news and information
Bishop visits Lydia Patterson Institute
March 31, 2014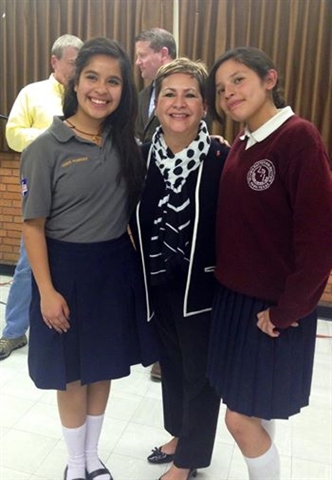 Bishop Harvey and Lydia Patterson Students
Bishop Cynthia Fierro Harvey and a small contingent from the Louisiana Annual Conference strengthened relationships with the Lydia Patterson Institute in El Paso, Tex. during a trip to the school last week.
In mid-February, Dr. Socorro Brito de Anda, president of the Lydia Patterson Institute in El Paso, visited United Methodist churches in all six Districts of the Louisiana Conference. The Lydia Patterson Institute is a United Methodist nonprofit institution of learning dedicated to providing quality bilingual cross-cultural academic education.
During the Louisiana group's visit to the school, Bishop Cynthia Fierro Harvey is shown sharing an evening of fun with students at the Lydia Patterson Institute.

CONNECT WITH US
SUBSCRIBE TO OUR EMAILS
The latest news and information