CONNECT WITH US
SUBSCRIBE TO OUR EMAILS
The latest news and information
Shalom Zone project funded through Conference Peace with Justice grant
March 31, 2014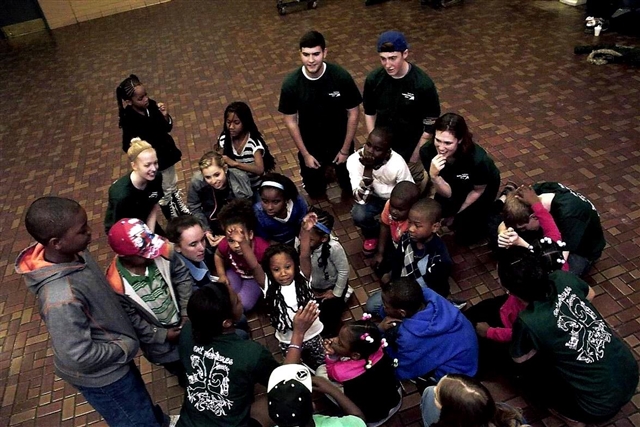 Thanks to recent Peace With Justice grants issued through the Louisiana Conference, Shalom Zone Community, Inc. of First Street Peck Wesley UMC in New Orleans was able to resume its 2013- 2014 Let Peace Prevail Project.
To fully operate this program, which serves children and youth ages 5-13, Shalom Zone depends on the city and the United Methodist Church for funding. With support from the city being delayed, the award of the PWJ grant allowed continuation of the project, providing activities at the church and a safe haven for children who live in a poor community plagued with crime and violence.
The children are also given a hot breakfast and a healthy snack. During the three hours the children are at the church, they engage in activities that foster self-esteem and teach them how to resolve conflicts peacefully.
The children participated in a two-day performing arts camp March 6-7 with the Juilliard ARTreach New Orleans Service Project, shown above. While enjoying themselves with the dance, music and drama routines conducted by the Juilliard students, the children were also engaging in cooperative skills and learning tolerance.
Funds from the PWJ grants support the Shalom Zone mission to give spiritual guidance to young people. One of the activities that enhances learning of God and His creation is the planting of a vegetable and herb garden. The late Rev. Abraham Davis, founder of this Community of Shalom, gave permission for the use of his property across the street from the church for the garden. Also, weekly lessons from the curriculum Three Simple Rules for Following Jesus reinforces three rules--Do No Harm, Do Good and Stay in Love with God.

CONNECT WITH US
SUBSCRIBE TO OUR EMAILS
The latest news and information