CONNECT WITH US
SUBSCRIBE TO OUR EMAILS
The latest news and information
Conference churches partner with schools through Kids Hope USA
March 03, 2014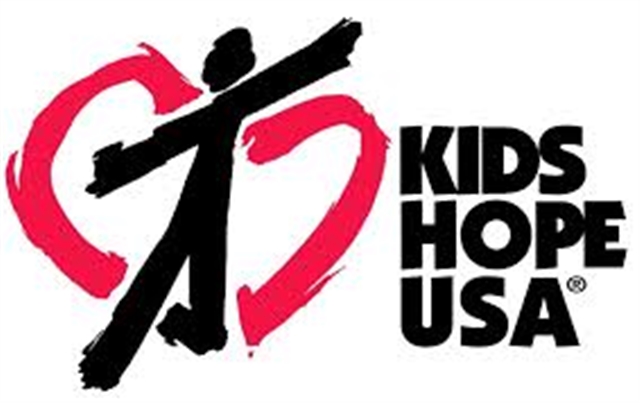 Volunteers from Camphor Memorial United Methodist Church in Scotlandville are mentoring students at Progress Elementary School through the national program, Kids Hope USA.
Other local churches participating this year in the initiative are Neely UMC, Baton Rouge (Polk Elementary); University UMC, Baton Rouge (University Terrace Elementary); First UMC, LaPlace (Emily C. Watkins Elementary School); First UMC, Many; First UMC, Natchitoches (L.P. Vaughn Elementary Middle School); St. Mark UMC, Opelousas (North Elementary School); First UMC, Pineville (Lessie Moore Elementary School); Broadmoor UMC, Shreveport (Arthur Circle Elementary School); Henning Memorial UMC, Sulphur (Frasch Elementary School); and First UMC, Winnfield (Winnfield Primary School).
At Progress Elementary, mentors and students were excited this past fall when they entered the school's new 86,400 square foot "state-of-the-art" building which houses Pre-K to grade 5. A total of 14 students in grades 4 and 5 were selected to participate in the 2013-2014 mentoring program. Hallique Dawson, program director for Camphor UMC, believes that the need for mentoring elementary school children is great because they are in their formative years. "During this time, instilling values, self-worth, and self-esteem are crucial," said Deaconess Dawson.
Each child, referred by their teacher, is matched with a trained mentor. Student and mentor meet once a week for one hour at no cost to the school or participant. Mentors are trained annually to identify and help meet the needs of the assigned child through a faithful, caring relationship. The children are mentored in the areas of academics, attitude, behavior and attendance.
Members of the Camphor Memorial UMC leadership team include Dawson; Kathleen Conrad, assistant director; Geraldine Simms; Mary Emerson; Gloria Faye Wilson; Cheryl Lott; Luella Johnson; Carol Kinard; Susie Mines; and Eric Singleton. Prayer partners are Wilhemnia Wheelock, Clyde Watkins, Augustine Warner, Josephine Douglas, Angela Thomas, Charlie Mae Jackson, Lena Lockhart, Susie Mines, Jo Ellen Stewart, Gwen Herson, Charlene Jones, Brenda Davis, Sandra Sterling, Ernise Singleton, Lucy Virdue, Demetria Mcjulien, Jade Chapell, Wanda Morgan and Wanda Henderson. Mentors include Isadore Brown, Mary Charles, Paula Hayes, Randell Henry, Willie Johnson, Robbyn Mathews, Patricia McDaniels, Press Robinson, Dianne Shelmire, Blanche Smith, Patrick Tillman and Gloria Faye Wilson. Revs. Clifton C. Conrad Sr., senior pastor, and Mary Ann Robinson, associate pastor, pastor Camphor Memorial UMC.
Find out more about "Kids Hope USA" at www.kidshopeusa.org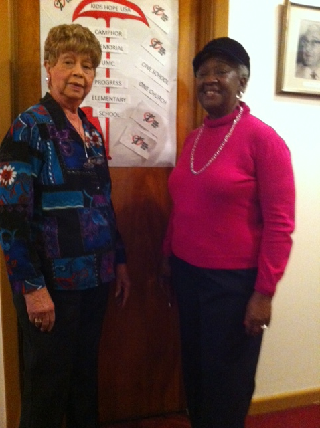 Deaconess Hallique Dawson with Kids Hope USA mentor, Patricia McDaniels
CONNECT WITH US
SUBSCRIBE TO OUR EMAILS
The latest news and information