CONNECT WITH US
SUBSCRIBE TO OUR EMAILS
The latest news and information
Conference-wide growth, change happening with Congregational Development and Transformation
January 13, 2014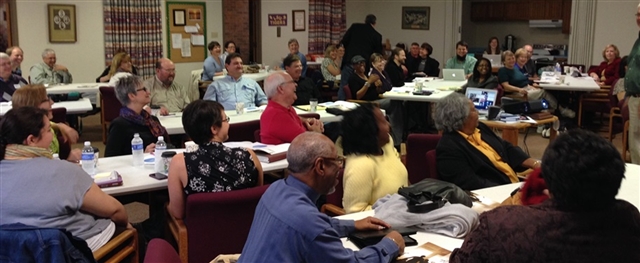 According to Rev. Dr. Rob Weber, the work of the conference office of Congregational Development and Transformation is continuing and expanding in many areas throughout the state at a rapid rate.
After completing one final class of Town and Country Ministries, the office has looked carefully at the training procedures needed to assist Louisiana's congregations that find themselves in a variety of settings. Not all congregations in rural areas are small and struggling--and not all congregations in urban areas are growing and dynamic with plenty of staff and money.
Over the past couple of years, many United Methodist congregations in Louisiana participated in a process of congregational self-identification. Congregations answered a series of questions, or answered "true" or "false" to a series of statements about congregations to determine their "place" in one of four categories--On the Move, Faithful and Strong, Rekindling the Vision or Passing the Mantle.
While this was informative work, many have looked upon the exercise as "one more thing we've been asked to do." But by completing congregational self-identification, churches are well on the way to being able to develop strategic plans for congregational transformation. "Not all plans will look the same. Some congregations might need to start a second campus, while others might need a new worship service. Others might need to freshen up their physical plant, while others need to recognize that after years of faithful service, the world around has changed and the ministry of that particular congregation in its present state has come to its fullness of time. In those cases, churches can either close or turn the facility over so that a new congregation can start in its place," said Weber.
After reviewing numerous resources for congregational transformation, Congregational Development and Transformation decided to start with the following programs: Discovering the Possibilities, SHIFTS and Discipleship Coaching Training.
Discovering the Possibilities (DPT) is a five- hour facilitated process designed to assist congregational leaders in understanding the realities of their ministry context and current ministries, and to begin discerning possibilities for their future in ministry. This process is also designed to give congregations a realistic sense of what fulfilling their ministry potential might mean. A user friendly, written report capturing data and findings, as well as next steps for each congregation is provided as part of the process.
Dr. Phil Maynard (a Path 1consultant from the General Board od Discipleship) is training facilitators to lead the Discovering the Possibilities workshops throughout our state. Once several facilitators are trained, this will enable the conference to begin scheduling congregations across the state to participate in this transformational opportunity. To date, Discipleship Coaching Training has trained around 95 discipleship coaches in the Louisiana conference.
Discovering the Possibilities has been completed at First UMC, Alexandria, and Munholland UMC in Metairie. Events are scheduled in the first part of the year for University UMC in Lake Charles, Bethany in New Orleans and at least one congregation in Monroe. "The response to the process has been very positive," said Weber. In the early first quarter of 2014, there are DTP events scheduled for University UMC in Lake Charles, Bethany UMC in New Orleans and St. Mathews UMC in New Orleans.
SHIFTS is yet another congregational process designed to help a church live into its God-given potential. It includes training around both cultural and leadership shifts that are necessary to move toward vitality. The training is complimented by a coaching relationship that supports the congregational leadership in identifying potential opportunities for growth, planning for congregational development, and implementation of the plans. The experience includes a one-day Saturday workshop and monthly coaching through video conferencing. A network of 12 churches is participating in the first SHIFT experience for the Louisiana Conference, which should be completed just before conference.
The first SHIFTS Network began Nov. 16 in Alexandria with 11 churches participating in the process. Dr. Phil Maynard, who will be onsite for all of the group meeting, will work with certified and experienced coaches Jim Robey and Larry Ousley. "The first group event was well received as people focused on 'shifting' from fellowship to hospitality and from worship as an event to worship as a lifestyle," said Weber, shown above at a recent event.
Discipleship Coaching Training is a workshop designed for congregations hoping to strengthen the process of developing mature disciples of Jesus Christ. The Discipleship Coaching process clearly establishes three important guidelines:
•In addition to learning about Jesus, discipleship is about becoming more like Jesus.
•In addition to education about Jesus, discipleship is about transformation.
•In addition to gaining knowledge, discipleship is about behavior.
A newly designed Discipleship Internet Portal with quality resources for guiding people along the discipleship journey as well as multiple models for implementing Discipleship Coaching within any size congregation is a key component of this groundbreaking process.
A total of 69 coaches were trained during an event at Grace Community UMC in Shreveport. The training was also held at St. Luke Simpson in Lake Charles this past October. The tentative date for a Discipleship Coaching Training in the Monroe District is set for Feb. 8, 2014 from 8:30 a.m.-5 p.m.
"It is recommended that clergy seek out two to four lay persons interested in supporting the discipleship process within their congregation to participate in this process," said Weber.
Another area that is central to all congregational vitality and transformation is that of authentic, quality and relevant worship, said Weber. "In many cases, we have moved past the majority of 'worship wars,' but are still working to help congregations and leaders effectively envision, design and implement transformational worship," he added.
The office plans a Transformational Worship Initiative to train local church leaders, allowing 10-12 persons per event to have hands-on training and acquire valuable resources to more effectively leading worship in their local context. The first event should be in place soon after Annual Conference of 2014.
The office of Congregational Development and Transformation is working on increasing access to and the use of MissionInsite materials. Working with Rev. Valerie Robideaux, Weber is hoping to increase the use of demographic materials and hopes to recruit and train at least one person in each district to be facilitators for increasing the use and effectiveness of the MissionInsite resources available to conference churches.
Eventually, Robideaux and the district representatives will also be available to consult with individual congregations or teams. "This will be a much better model for the strategic deployment of the resources rather than the 'service provider' model we are currently using wherein people call me to provide reports. The new model will spread the skills, access and use throughout interested churches," said Weber.
Even though there are so many exciting ministries taking place in churches across the conference, there is always room for each of us to stop and assess how we use our time and energy and how we align our precious resources. Things can change around us at such a rate that we need to re-tool our ministries and refocus our mission.
If your church could benefit from one or more of these exciting experiences, visit http://lacongregationaldevelopment.wordpress.com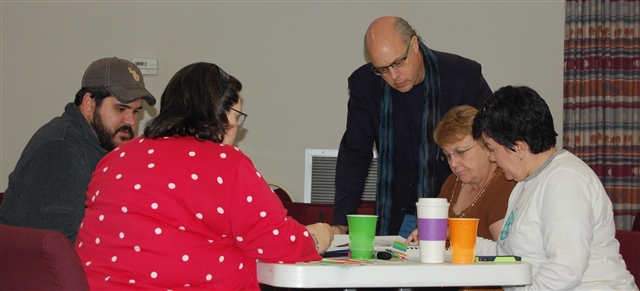 CONNECT WITH US
SUBSCRIBE TO OUR EMAILS
The latest news and information