CONNECT WITH US
SUBSCRIBE TO OUR EMAILS
The latest news and information
New Church on Louisiana Avenue brings renewed life to declining church
December 30, 2013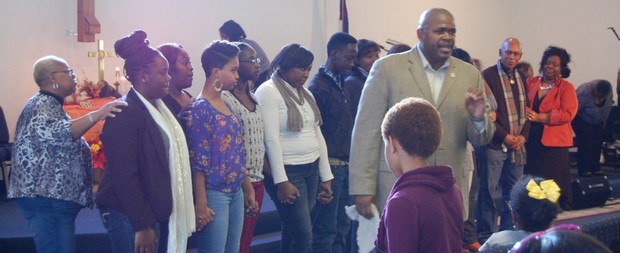 On Sunday, Nov. 24, Rev. Rob Weber stood in the back of the small sanctuary of a church that had been close to closing its doors--and witnessed what he could only describe as "nothing short of a miracle."
In just four short months, a new and vibrant congregation was born in the place of one that had been struggling (fewer than 20 people in attendance) and declining, reported Weber, conference director of Congregational Development and Transformation.
This "phoenix rising" event was the culmination of plans spearheaded by Rev. Ed Boyd, Acadiana District Superintendent, and Rev. Weber as they worked with Bishop Cynthia Harvey to bring in Rev. Robert Johnson to start the new church and set a tone for a new model of ministry.
"The New Church on Louisiana Avenue in Lafayette--what it is known by until a new name is selected--is progressing quite well. Rev. Johnson has a powerful vision for meeting people with the love of Christ no matter where they are, and he isn't afraid to do things differently. He demonstrated his propensity towards change when he first arrived and dissolved all the offices of the existing congregation in order to make room for the 'new thing that God was about to do.' While there was already a building and a small congregation, the potential for the work of the church in than important location was not being accomplished," said Weber.
The work of renewal and rebuilding became contagious. With Rev. Johnson's uncontainable excitement for ministry, and Rev. Weber's vision and out-of-the-box thinking, the two worked on a process and timeline for the birth of the new church. Robert went to work, meeting school principals, business owners, homeless people and anyone who would talk to him. His skills in sales and in the business world proved to be a tremendous asset in the re-birth of a congregation. He has created an active presence on Facebook to evangelize through social media. He shared his vision with other churches in the district, many of helping with hands-on services and monetary donations. "This is the way our United Methodist Connection should work," said Rev. Boyd. "Churches helping other churches become all that they can be in order to fulfill the Gospel."
The New Church on Louisiana boasts newly installed audio and visual media equipment, an elevated sound booth in the back of the worship space, new drums and some fresh paint in the gathering area and sanctuary. Over the next year, rooms for nursery and children's facilities will be renovated and crucial improvements will be made to improve restroom and parking capacity. The church's outdoor sign--passed by almost 60,000 people each day--will also be improved.
The church hosted a Friends and Family Event Nov. 23-24, serving as the "soft launch" for the new church. "I wouldn't be surprised" said Weber, "if they need more space before they officially launch in August of 2014."
Describing his experience at the Nov. 24 worship service, Weber went on to say, "I stood looking at the room where only a few months ago, we had met with 15 or so people who were unsure about what we were asking of them--and now I was witnessing a gathering of over 150 people giving themselves to vibrant worship and praising God. I looked with tears in my eyes at the line of people in the front of the room who had come forward to make an affirmation of faith or to dedicate their lives to Christ.
"There was one man who has been a child at the church years before who had let life carry him down the wrong road. He was standing in front of that gathering and said, 'I found my way in to dealing drugs. That life style is filled with promises. I had the cars, the houses, the women, and I'd be lying if I told you that I hadn't held a million in cash, but the truth is, and I know it now, that none of it can compare to this… to the love of God and the new life I feel with my family in Christ.'"
Weber also pointed out that this is the conference's first church plant that has been rooted in African American leadership and tradition in a couple of decades.
In the Lake Charles District, progress is being made in developing a new church in the Morganfield area of the district. Similar conversations are being held for possible new church plants in the Monroe and New Orleans Districts.
"Donnie Wilkinson, Steven Spurlock, Jack O'Dell, Josh Milliron and I held a meeting of the Lake Charles Church Location and Building group (currently serves as the group interested in developing new ministries as well as approving building and land issues). We are in discussion with the developers of the Morganfield Development planned community in the southeast corner of Lake Charles just outside of the incorporated area. This section is slated for major development along two significant north-south traffic arteries. We hope to obtain land for the development of a new congregation. Both University and St. Luke Simpson are interested in providing some support for a new congregation in this area. We hope to have in place a potentially significant congregation ready to intersect with the economic growth that will come with the new companies that are already moving or are slated to move into the area in the near future," said Weber.
One of the areas of interest that the designers of the planned community have for a church in the area would be the provision of a quality early childhood education program. "This will be a project that requires a special individual to serve as a lead pastor," said Weber, who believes that through such a church, the conference will be able to serve and care for people starting a new chapter of life as well as getting the opportunity to create a nurturing environment for a new generation of children, forming relationships in a developing community. An appointment to this ministry will be needed in the next year or two.
Another possibility in Lake Charles involves Fairview UMC, located in an area of the city slated for major growth. "We are considering the best way to involve the members of the Fairview congregation in the conversation and determine how to help them develop a vision for an increased ministry to an area about to undergo rapid transformation – or to look at other options which might include sharing a location, etc.," said Weber.
In the New Orleans District, work is happening through what is called the "Planting Zone."
"We are bringing many resources and areas of expertise to work on the issues facing the church in the area. Work has begun with Rev. Jon Lord and the members of Carrollton in New Orleans in preparation for a re-start. Our goal is to launch the restart in 2014 as a fitting celebration of the centennial of the construction of the historic sanctuary building that stands on Carrollton Avenue. Discussions include pressing maintenance and remodeling issues with the Carrollton facility. We also continue to work with Beth Tu'uta and the combined congregations of El Mesias and Kenner UMC to form a new church. The congregation is working on a new name and a year-long evangelism plan. Plans are also underway for refurbishing the sanctuary and several areas of the building to make it more functional as a place for a multilingual congregation as well as increasing usefulness for weekday ministries with the community. Rev. Tu'uta is excited about the possibility of hosting people who would like to serve as ministry interns at the church. Details are being formulated for work in the areas of children's ministry and community outreach," said Weber.
Conversations with all six District Superintendents have been held regarding the work of Congregational Development and Transformation. In The Monroe District, work is happening in a cooperative effort among the District, several local churches and the Office of Congregational Development and Transformation to develop a new congregation and outreach ministry that should receive an appointment in July of 2014. In the Shreveport District, the office is in conversation about several ministry possibilities. There are merger possibilities, relocation possibilities, rebirth possibilities, and the possibilities of creating one or more new congregations.
"This is not simply a story of throwing money at a problem and hoping it gets better; it is looking strategically at some of our locations, realizing that there are many people who need to be reached who are not being reached under the current congregational model, and making the hard decisions and the changes necessary to build a growing and vibrant congregation that reaches where the people are," said Weber.
The budget allocated by the conference is a strong statement as to the importance of this tremendous work, yet, the cost of buildings, equipment, land, salaries, etc. is so much more than one might imagine, he added. Additional sources of funding are always needed. "New Church Starts Ministry" was formed by the Board of Laity to take the place of the Bob Lay 1000 Club. The principle behind New Church Starts Ministry is to provide resources to help churches be born and to create space where new relationships with Christ can be cultivated. Donations to New Church Starts Ministry will be used to help provide space, or to renovate (not for convenience or simply to be more attractive) in order to help new or renewing churches be more faithful in reaching new disciples for Christ. Each district will have a representative responsible for communicating the purpose of the ministry. More information will soon be available about the New Church Start Ministry.
CONNECT WITH US
SUBSCRIBE TO OUR EMAILS
The latest news and information