CONNECT WITH US
SUBSCRIBE TO OUR EMAILS
The latest news and information
Junior High retreats enjoyed by 230 youth and adults
November 13, 2013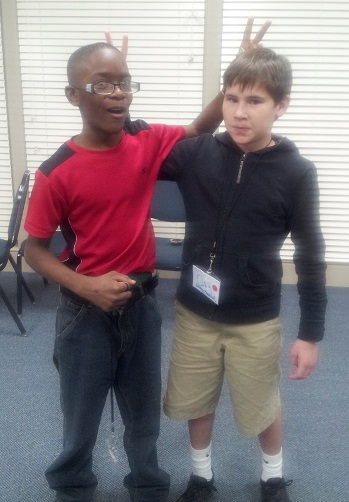 Exploring the topic of grace, Louisiana Conference Junior High retreats were held Oct. 25-27 and Nov. 8-10 at The Wesley Center in Woodworth La. A total of 97 youth and adults attended the October event and 133 youth and adults attended in November.
Youth and adult workers participated in youth-led activities that explored the subject of grace, and included reflection on issues affecting our world, and how God is calling each of them to be a part of the solution to those problems. Mission organizations expanded on ways to serve in small groups with representatives from United Methodist Committee on Relief (UMCOR,) Shepherd's Market (a client-choice food pantry), and Hope House (a children's home in Alexandria). Rev. Oscar Ramos from First Grace UMC in New Orleans spoke in one of the small groups about the church's many outreach missions, including Hagar's House, a shelter for women and their children.
The youth also followed the "Just Neighbors" curriculum from Family Promise (www.familypromise.org) in one of the sessions. The materials focused on preparing young people for mission and examined the root causes of poverty. A labyrinth walk, where participants prayed for the problems of the world, was incorporated into the events of the weekend.
Youth worshipped around a bonfire on Saturday night—during which three youth recommitted their lives to Christ-- and participated in a communion service on Sunday morning. Music was provided by the gospel band Organic Praise Band in October and featured speaker was Rev. Robert Johnson, pastor of a new church start in the Lafayette area. In November, the featured speaker was Rev. Juan Huertas, pastor of St. John's UMC in Baton Rouge and the Broadmoor Baton Rouge Contemporary Worship Band led worship.
Conference Council on Youth Ministries (CCYM) is a volunteer group of youth and adults from United Methodist churches from across the state, representing each district to provide leadership and create opportunities that bring young people closer to Christ. If you have any questions about Youth Ministries, CCYM or upcoming events, please contact Sabrina Short, Youth Ministry Strategist at (225) 490-0314 or email sabrinashort@la-umc.org.
CONNECT WITH US
SUBSCRIBE TO OUR EMAILS
The latest news and information