CONNECT WITH US
SUBSCRIBE TO OUR EMAILS
The latest news and information
Advent conference-wide initiative gathers layette kits
November 07, 2013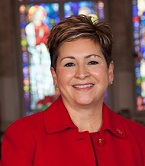 The road had what appeared to be craters in the middle of it as we maneuvered our way along the beautiful countryside on a typically hot day in Liberia. The road was so bumpy that our bodies actually hurt when we finally arrived at the Camphor Clinic. Set in what appeared to be the middle of nowhere, we were greeted by about 40 tiny, thin, wiry African women. They were singing and dancing in a tiny make-shift sanctuary. I have never been greeted so warmly. The hugs were especially wonderful.
The Camphor Clinic is a place where many women from the surrounding villages give birth to their children, and the 40 or so women were traditional birth attendants (or as we called them TBA's) who are trained to receive these precious babies into the world. Women from the village entrust the care of their unborn children to these women who are trained utilizing funding from UMCOR.
These are the kinds of places that benefit from the Layette Kits that are one of many important "kits" provided by UMCOR. Women who have little can receive the necessary items to begin life with their precious child.
As we begin our Advent journey, we are reminded of the babe born in a manger, also with access to little. We are asking you and your church to help collect items for the layette kits so that a mother--probably a young mother--many miles across the globe can begin life knowing that someone in Louisiana provided them with a great beginning.
In Christ,
Bishop Cynthia Fierro Harvey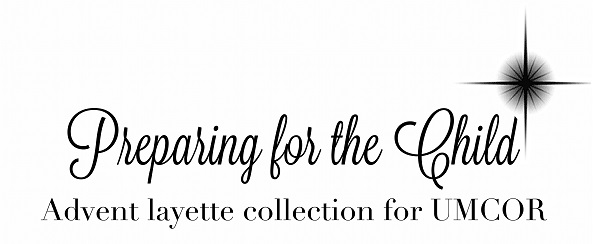 Join United Methodist churches from throughout the Louisiana Conference as we "Prepare for the Child" by collecting items for layette kits for distribution through United Methodist Committee on Relief. From Nov. 17-Dec. 8, congregations are asked to place collection barrels or boxes in a prominent place so that members can donate items from the list below.
These layette kit components will be collected for delivery to the UMCOR Sager Brown Depot between Dec. 10-12. Please bring items to the church(s) listed in your District by Dec. 9. It is recommended that you contact the church before delivering items to receive instructions. See list here.
Use this promotional flyer for advertising in the local churches, along with a banner/logo that can be printed out and placed on collection boxes/barrels. In individual church communications, publicize the list below, promote collection dates, and offer members the opportunity to donate funds toward the project if they prefer ($35 provides one layette kit). Please do not assemble the layette sets; Sager Brown would prefer to put them together at the site.
The components for each Layette Kit include:

6 cloth diapers (prefolded or plain, no disposable diapers, please)
2 shirts (undershirts or onesies)
2 wash cloths (infant size only)
2 gowns or sleepers
2 diaper pins (with protective plastic closures)
1 sweater or jacket (front opening-may be hand knitted, crocheted or sewn. Hooded sweatshirts are okay)
2 receiving blankets (28" x 28" to 32" x 32"- no crib blankets, please)
A personal story illustrating how the layette was used in 2013 can be found at http://www.umcor.org/UMCOR/Resources/News-Stories/2013/February/0204-In-Uganda-Life-Begins-with-Dignity

CONNECT WITH US
SUBSCRIBE TO OUR EMAILS
The latest news and information