CONNECT WITH US
SUBSCRIBE TO OUR EMAILS
The latest news and information
First UMC, Coushatta celebrates new sanctuary
November 05, 2013
Serving nearly 190 years in Red River Parish, First United Methodist Church in Coushatta celebrated the grand opening of its new sanctuary and office complex on Nov. 3.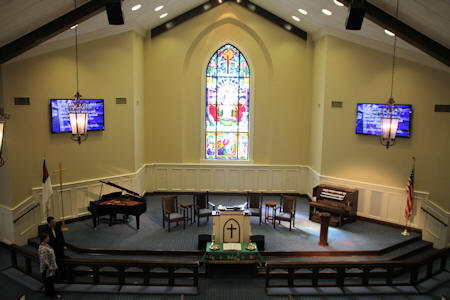 The construction project included the demolition of the original church building constructed in the 1920s, Bobbit Fellowship Hall, church offices and the sanctuary built in 1963. The new single building houses a sanctuary, restrooms, offices, nursery and classrooms.
"After many years of praying, meetings and long-term planning, First UMC decided to stay in its current location on Front Street and build a new sanctuary and office complex. We hope to be a people who continue to serve and love the people of Coushatta and Red River Parish as we follow Jesus Christ," said Rev. John Kavanaugh, pastor.
CONNECT WITH US
SUBSCRIBE TO OUR EMAILS
The latest news and information