CONNECT WITH US
SUBSCRIBE TO OUR EMAILS
The latest news and information
Advent resources urge simplifying Christmas
November 05, 2013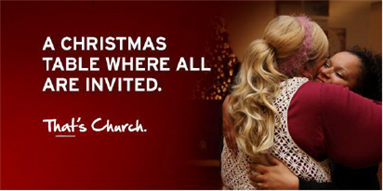 Nashville, Tenn.: United Methodist Communications has created Advent resources to help United Methodist churches convey a welcoming message during the Christmas season to those who may not have a church home.
This year's resources complement United Methodist Communications' broader campaign, "That's Church," and share a message about cutting through the holiday chaos and simplifying Christmas. The goal is to provide local churches with resources to help them welcome their communities and share the true meaning of Christmas.
The resources include online resources, video, digital media and print assets. Seasonal posters, direct mail cards, bulletin inserts, and door hangers are downloadable at no cost. These communication tools can be used by congregations to welcome new people to worship services and mission opportunities during Advent. Downloadable advertising tools are also available in Korean and Spanish languages.
These products can be customized to add a church's contact and unique ministry information for local and online outreach. The downloadable bundle includes PSD and JPEG files. Customized advertising materials can also be printed through the UMC Print Shop.
Advent is just around the corner, but it's not too late to order the free resources now. Join hundreds of other churches that have already taken advantage of this valuable resource. Information and more is available at umcom.org/thatschurchadvent.
CONNECT WITH US
SUBSCRIBE TO OUR EMAILS
The latest news and information