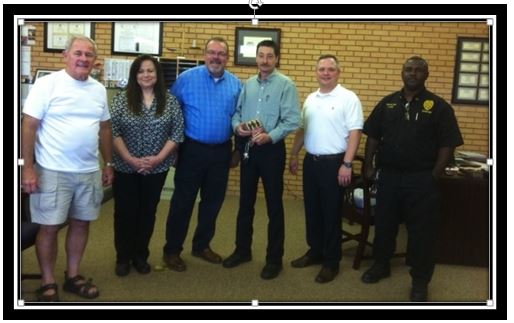 The Benton United Methodist Church UM Men gave 29 copies of a new Christian devotional book to the Benton Fire and Police Departments. The book is entitled, "Strength for Service to God and Community."
The book is written for men and women who "rush into dangerous situations when others are running the opposite direction." It provides a daily Bible verse, devotional and prayer. The devotions are modern accounts of the courage and faith of Christian public servants from the United States armed forces as well as police and fire personnel.
These devotionals are a ministry of the General Commission of United Methodist Men. "Local service personnel and their families sacrifice so much for us; we wanted to give each of them a token of our gratitude that would strengthen each of them in their daily walk with our risen Lord," said Matt Wise, a member of the Benton United Methodist Men's group. To learn more about this outreach ministry, please email mattbwise@bellsouth.net.