CONNECT WITH US
SUBSCRIBE TO OUR EMAILS
The latest news and information
Foundation sponsors pastors for leadership class
September 05, 2013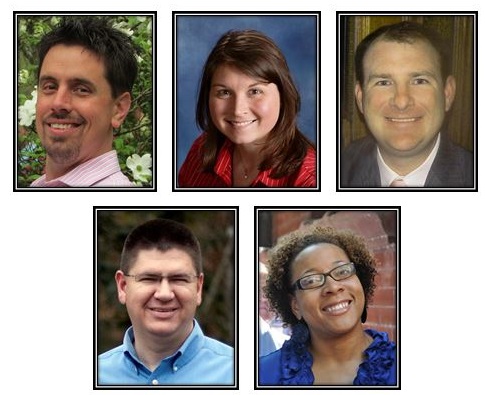 From left to right: Rev. Ben McGehee, Rev. Ashley McGuire, Rev. Brian Mercer, Rev. Josh Milliron and Rev. Karli Pidgeon
The United Methodist Foundation of Louisiana is sponsoring five young Louisiana pastors in the Advanced Pastoral Leadership program, a five-year training course designed to assist emerging clergy leaders in developing their potential for fruitful leadership.
Participants for APL were selected from among those who are ordained in the United Methodist Church, serving in the Louisiana Conference, and have at least 30 years of potential remaining service. Each applicant went through an extensive selection process, submitting a sermon video, participating in an interview and obtaining affirmation from the District Superintendent and the Bishop.
Participants for each group also were required to have exhibited gifts in leading their church in professions of faith, worship attendance, membership, missional outreach ministries, and financial giving. Additionally, each applicant's qualifications were affirmed by lay leaders of the church they serve.
The APL participants are: Rev. Ben McGehee, First UMC, Columbia; Rev. Ashley McGuire, First UMC, Bossier City; Rev. Brian Mercer, Trinity UMC, Ruston; Rev. Josh Milliron, Moss Bluff UMC, Lake Charles; and Rev. Karli Pidgeon, Asbury UMC, Natchitoches.
Participants will learn from a variety of leadership pastors and community leaders and Rev. Janice Virtue, leadership consultant and educator, will serve as program guide. She is an ordained elder in the UMC and holds a master of divinity from Perkins School of Theology and an MBA from Indiana University. The workshops are designed and coordinated by the Texas Annual Conference.
Session topics will cover issues such as discernment of leadership gifts and creation of development goals; current realities of the UMC, engaging staff and congregation in strategic planning; implementing change and managing resistance; preaching content and style; budgets and basic church accounting, money sermons and personal financial planning; and setting a personalized growth and development plan.
The Foundation will underwrite all expenses associated with the program. Participants will invest $250 per year and commit to attend all sessions. The Foundation has committed up to $250,000 to support this initiative.
Located in Baton Rouge, the United Methodist Foundation of Louisiana was founded in 1975 and serves United Methodist churches, institutions and individuals within the Louisiana Annual Conference, providing financial guidance and education, loans and grants. It is one of the largest United Methodist Foundations in the denomination.

CONNECT WITH US
SUBSCRIBE TO OUR EMAILS
The latest news and information