CONNECT WITH US
SUBSCRIBE TO OUR EMAILS
The latest news and information
Kairos seeks to add juvenile ministry in Louisiana
August 21, 2013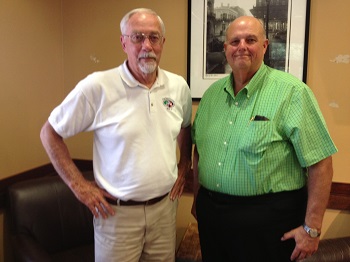 Dan Hicks and Ronnie Berg
Fourteen months ago, Ronnie Berg was sitting in Rayburn Correctional Center in Angie, La. surrounded by 10 inmates during a Kairos Inside retreat. Berg, a member of First United Methodist Church in Covington and an active Kairos volunteer, was suddenly aware of one striking similarity among the men—they were all from the New Orleans area.
"In fact, these men had all started out in juvenile detention. They were products of the same genesis and had grown up or lived in New Orleans, perhaps the Louisiana city most touched by crime," said Berg, who is a native of New Orleans.
It was at that moment that "God spoke to his heart" and that Berg decided that the New Orleans area was in need of a Kairos presence. Perhaps most important, New Orleans needed Kairos Torch, a mentoring ministry for youthful offenders. "Being with these men, the need for breaking cycles and halting this 'culture of incarceration' was painfully obvious," said Berg. "We needed to reach them before they wound up in adult prisons."
Currently, Louisiana has a growing Kairos Inside ministry (a three and a half-day spiritual renewal event for adults in state and federal prisons) and Kairos Outside ministry (an experience for the female family members of men and women who are incarcerated). The Louisiana Conference of The United Methodist Church has been an "ardent" supporter of and participant in these ecumenical ministries for nearly 20 years.
In pursuit of his vision, Ronnie Berg met last July with leaders of the Louisiana Chapter of Kairos Prison Ministry International. During the meeting held at The Wesley Center in Woodworth, bringing Kairos Torch to the state was approved by the chapter. The group also authorized the formation of a start-up advisory council for bringing the ministry to Bridge City Center for Youth (BCCY), a juvenile correctional facility in New Orleans. The BCCY advisory council, chaired by Berg, held its first meeting on Aug. 11.
The Kairos Torch ministry, according to Berg, is currently implemented in 30 juvenile facilities in 15 states; the ministry will soon be implemented in 18 additional facilities in the United States, and is active in two foreign countries. Created by Kairos Prison Ministry International (KPMI) in 1997, Torch is found in several of Louisiana's neighboring states—Mississippi, Arkansas and Texas. "I don't think it's a coincidence that they don't have our crime problems," said Berg.
On Aug. 16, 2013, Berg was able to observe a Kairos Torch weekend held at Walnut Grove Juvenile Center in Walnut Grove, Mississippi. Moved by the experience, he was equally encouraged by recent comments in a letter of support about the ministry from Rev. Justin Chaney, chaplain for Walnut Grove.
"I have seen prison ministries come and seen prison ministries go. Kairos Torch is unlike any other. . . Each time we host a Torch weekend, you can feel the excitement in the air from the offenders as well as our staff . . . I saw first-hand how these young men went from feeling unwanted to having a purpose in their life. . . The bottom line is that Kairos Torch works," wrote Rev. Chaney.
On Aug. 20, Berg and Dan Hicks, chair of the Louisiana Chapter of KPMI, presented the concept of Kairos Torch to the assistant director of the Louisiana Office of Juvenile Justice (LOJJ. The office, located in Baton Rouge, manages the four youth prison centers in the state. "We must get their approval to bring this ministry to the facilities in Louisiana," said Hicks, who said that Kairos should have a response from the state within two to three weeks.
If approval is granted, Louisiana's chapter of KPMI can approach the facilities and negotiate the standard "memorandum of understanding," which constitutes as an agreement between the groups, and which will trigger the activities and team formations necessary to start the first weekend and mentoring cycle for each facility.
Kairos Torch weekends are different from their adult-serving counterparts because in addition to the initial event, juveniles participate in a long-term one-on-one mentoring program. Lasting between six months to a year, these once-a-week sessions are facilitated by carefully screened volunteers.
Each Kairos Torch volunteer must complete 40 hours of intensive training and commit to finishing the mentoring sessions for their assigned juvenile.
Serving as a volunteer for this potentially life-changing ministry requires one main thing, said Hicks—mentors must "have a heart" for children.
He is confident that once Kairos Torch can get its "foot in the door" in one of the state's four institutions, they will "gladly welcome us" into the other three.
The remarkable thing about the ministry is that it is of no cost to the state, said Hicks. "This is an amazing, life-changing opportunity that prevents kids from taking the next step into adult prison. Being incarcerated doesn't scare these kids, because many of them have parents who are in the prison system. But with the love of Christ, we can make a real change in their hearts and attitudes."
For more information about working with Kairos Torch, email Dan Hicks at danhicks@centurytel.net or Ronnie Berg at the_berg@bellsouth.net.

CONNECT WITH US
SUBSCRIBE TO OUR EMAILS
The latest news and information