CONNECT WITH US
SUBSCRIBE TO OUR EMAILS
The latest news and information
Baton Rouge district sponsors Habitat project
August 12, 2013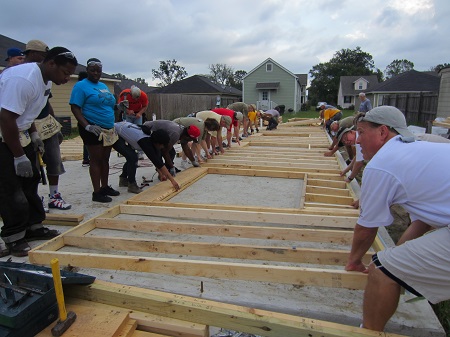 Churches in the Baton Rouge District will construct its 30th Habitat for Humanity Home in the fall of 2013. Starting with wall layout by our "Silver Hammers" on Sept. 11 and the Blessing of the Build and wall raising at 8 a.m. on Sept. 14, the district-wide project will provide a deserving family with a home in the Baton Rouge community.
Volunteers will work from 8 a.m.-2:30 p.m. each Wednesday and Saturday until the project is completed in mid-November. Lunch is served at 11:30, and volunteers are asked to arrive a few minutes early to get a name tag and to register.
"This will be our 24th year with the Baton Rouge build. United Methodists should be proud of all we have accomplished in working with these families, making home ownership possible for them. Please join us, and invite others. Volunteers can help with construction and painting, provide lunch, serve as a greeter to sign in volunteers and share skills. Everyone can pray for a safe and productive house build," said Lynn Bradley, Baton Rouge architect and member of Broadmoor United Methodist Church.
This year's home will be located in the Valley Park area on Wells Street (see attached map).
Please give Lynn a call at (225) 293-2216 (home), or (225) 769-7040 (work), or e-mail lbradley@bradley-blewster.com if you want to sign up your group, need a map or have any questions. Please schedule your group so that we have a good number each week. Youth over the age of 16 can participate; youth over 18 can climb a ladder.
Registration and waiver form here.
2013 UMC Habitat For Humanity map here.
CONNECT WITH US
SUBSCRIBE TO OUR EMAILS
The latest news and information