CONNECT WITH US
SUBSCRIBE TO OUR EMAILS
The latest news and information
Buddy Camp serves close to 100 kids
August 12, 2013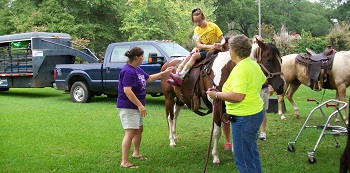 Nearly 100 campers attended Buddy Camp's Fiesta 2013 held July 29-Aug. 2 at First United Methodist Church, Alexandria.

In its 14th year, Buddy Camp places first through fifth graders, both with and without developmental challenges, into "Buddy" pairs for a week-long summer day camp. The camp is staffed by volunteer professionals, including nurses, therapists, youth counselors and others who work with children with varying abilities. Eighth grade to college age youth assisted each Buddy pair as Buddy counselors.

Activities for the week kicked off with magician Chris Miller performing coin and card slight-of-hand tricks and illusions involving handkerchiefs, ropes, a bird and, yes, a rabbit! Craft activities included making and painting hats. Campers rode horses and enjoyed a petting zoo with chickens, a cow, a donkey, a miniature horse, goats and rabbits.

The week ended with an awards ceremony that had a slide show featuring campers having fun.

For more information about Buddy Camp, visit www.fumca.org or contact the church office at (318) 443-5696 or JBacon@fumca.org.

CONNECT WITH US
SUBSCRIBE TO OUR EMAILS
The latest news and information