CONNECT WITH US
SUBSCRIBE TO OUR EMAILS
The latest news and information
Camphor Memorial UMC supports Kids Hope
August 07, 2013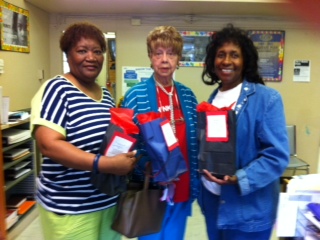 Edna Howard and Deaconess Hallique Dawson are pictured with Sarah Henry, principal of Progress Elementary
Camphor Memorial UMC is one of four churches in the Baton Rouge community participating in the Kids Hope USA national program. Last May, Camphor completed its first year of the mentoring program at Progress Elementary in Scotlandville, La.
The Kids Hope program matches volunteer mentors with students who are at-risk academically, socially and emotionally. Trained mentors meet with the student at the school for one hour on a weekly basis. Deaconess Hallique Dawson, director, was assisted by Kathleen Conrad, assistant director, in training 21 mentors, substitute mentors and prayer partners.
A total of 16 third and fourth graders participated in the Kids Hope program at Progress Elementary school. "Based on the end of the year student evaluations, each participant improved, at or above the grade level in reading. Ninety-nine percent of the mentees improved in mathematics. Ninety-eight percent of the students improved in writing achievement. General achievement goals which included positive behavior, self-regulation and control, and motivation for school work improved by 97 percent of the program participants," said Conrad.
In addition to weekly meetings with students and mentors, special events were celebrated throughout the school year, including a Kids Hope "meet and greet," teachers appreciation week, an end of school year pizza party and awards day.

CONNECT WITH US
SUBSCRIBE TO OUR EMAILS
The latest news and information