CONNECT WITH US
SUBSCRIBE TO OUR EMAILS
The latest news and information
Joshua team holds inaugural meeting
July 24, 2013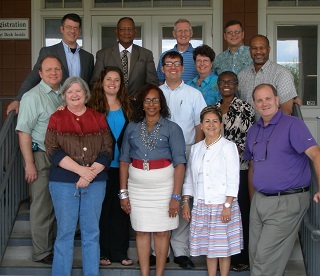 The Louisiana Annual Conference Joshua Team held its inaugural meeting on July 20 at the Wesley Center in Woodworth.
Bishop Harvey led the meeting of the two-year pilot project team in a discussion of its purpose, and reminded the team of the core values introduced and adopted by the annual conference at its meeting in June. During the four-hour meeting, the group participated in a SWOT analysis of the strengths, weaknesses, opportunities and threats existing for the conference.
The Joshua Team was proposed by the Structure Revision Team and approved at this year's annual conference. The group is charged with the task of providing "short- and long-term vision casting that supports the purpose, focus areas and guiding principles of the Louisiana Annual Conference." Additionally, the team will work together to "develop goals and objectives with measurable outcomes," and "will coordinate the various Conference ministries to more effectively accomplish our shared mission."
It is hoped that the Joshua Team will provide a more flexible, creative, agile and innovative model for making missional decisions in the Annual Conference. Members of the Joshua Team, pictured with Bishop Harvey, include, front row, Sue Catchings, Clara Scott, Harvey, Scott Hughes; second row, Wybra Price, Leslie Stephens, Brad Burkman, Bernardine Johnson; third row, Renee Evans, Andy Goff; and fourth row, John Cannon, Anthony Alfred, Dr. Don Cotrill and Lynn Malone.
CONNECT WITH US
SUBSCRIBE TO OUR EMAILS
The latest news and information