CONNECT WITH US
SUBSCRIBE TO OUR EMAILS
The latest news and information
United Methodist pastor named 2013 CNN Hero
July 24, 2013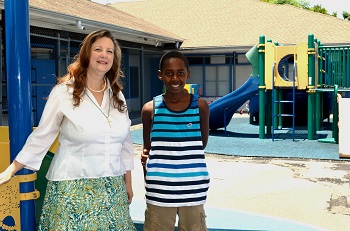 Rev. Lisa Fitzpatrick shown at APEX with Burnell Pollard
In a city that ranks third among the deadliest in the nation, Rev. Lisa Fitzpatrick is doing what she can to decrease violence in New Orleans, La.
Co-founder of the APEX Youth Center, Fitzpatrick and her team of volunteers extend love and the concepts of conflict resolution to a number of the city's at risk children, youth and young adults.
"Reconciliation, never retaliation" is the organization's motto, said Fitzpatrick, who also serves as a part-time associate pastor for First Street PW and Williams Ross United Methodist Churches in a city which is working to decrease its high murder rate.
A typical day at APEX, an acronym for Always Pursuing Excellence, is filled with interactive sports and games as well as constructive lessons that encourage positive social interaction. "APEX is a place where we offer unconditional, relentless love to at risk children. We build relationships, when sitting around the table for a meal or enjoying fun activities. We strive to truly meet them where they are in life and to provide a symbol of love, hope and safety," said Fitzpatrick.
'They are the real heroes'
It is no surprise that this humble local pastor was "shocked" when she received the call to let her know that she had been named one of 25 CNN Heroes for the year 2013. "We're humbled and honored. This speaks to the amazing work that the kids are doing. They are the real heroes. To live in the midst of daily violence in their neighborhoods, to bear the burdens they bear—their courage and strength is heroic," said Fitzpatrick, who felt a call to ministry early in life.
At the age of 16, she walked down the aisle at her church in response to a call for those considering a life of service to God. "When I reached the preacher, I was ushered to the side and told that I had misunderstood. They explained that this kind of calling was 'only for boys,'" Fitzpatrick said. "Of course, this church was in another denomination. But, the good child that I was, I put the thoughts of ministry aside. Ultimately, the Holy Spirit said otherwise," she added with a laugh.
Her secular career included corporate jobs, a stint in the music industry and work in public health. "I worked with immigrants and high risk families, promoting healthier life styles. In Los Angeles, I worked with gang members. Through it all, a significant focus was the importance of building strong families," said Fitzpatrick, who believes that those years in public health helped to prepare her for her work with APEX.
Given her professional experiences, Fitzpatrick could have started and continued the work of the youth center without pursuing the ministry. "But, I needed to do this as a pastor. I knew it was my calling. This was the time. I wanted the accountability of The United Methodist Church, and I felt it was important for the children to see," she explained.
'We respond with open hearts and open doors'
The church's pursuit of "holiness and excellence" serve as central values for the work of the youth center, said Fitzpatrick. "These young people have found our door. They have left their weapons outside. They have cut out the noise of the street, if only for a moment. So we respond with open hearts and open doors."
The United Methodist connection to APEX doesn't stop with Fitzpatrick. Churches like Rayne Memorial UMC on St. Charles Ave. have supported the vital community outreach with funding and volunteer help. And the facility is now housed in the People's New Chapter Life Center on Simon Bolivar Avenue, which is associated with Peoples United Methodist Church.
Two life-changing incidents served as catalysts in Fitzpatrick's decision to establish APEX. She was the target of a gang-related shooting in Oklahoma City; and years later in New Orleans, Fitzpatrick witnessed the aftermath of a fatal drive-by shooting on her street. The victim—a young man—was a friend of her daughter.
"The murder in New Orleans really hit hard. I told my husband, Danny, that we just had to do something to help with this problem. We prayed about it as a family, and soon after, the work to build APEX began," said Fitzpatrick, now 50.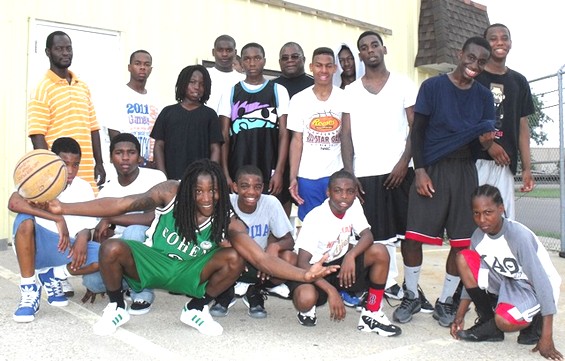 New Orleans youth pictured at APEX youth center
The decision to start the youth center with his wife was a natural one for Danny Fitzpatrick. His shared love for children is evidenced by the couple's history as parents. "Danny and I have fostered 20 children. And we have a total of seven children, together. I know that God has a sense of humor, because our youngest is just now 10 years old," Fitzpatrick said with a laugh.
To date, more than 470 children, youth and young adults have received services at the youth center. It's a labor-intensive ministry, but Fitzpatrick exudes infectious enthusiasm for the work of the organization.
"I do what I do every day because I love it. There are days when I feel old and tired, but the kids give me energy. I am fueled by the needs of these young people. There is so much poverty here; it's heartbreaking," said the United Methodist pastor.
"Since Hurricane Katrina, the city and the church have spent a lot of much needed time rebuilding New Orleans with bricks and mortar. Now, it is time to turn our attention to these matters. We can be about the business of shaping and building lives," said Fitzpatrick.
Visit www.CNNHeroes.com to see the story and video, or go directly to the story at: http://www.cnn.com/2013/07/18/us/cnnheroes-fitzpatrick-new-orleans-youth/index.html

CONNECT WITH US
SUBSCRIBE TO OUR EMAILS
The latest news and information