CONNECT WITH US
SUBSCRIBE TO OUR EMAILS
The latest news and information
Louisiana youth director serves in Haiti
July 23, 2013

Sarah Marsalis Luginbill shown with Haitian interpreters
Sarah Marsalis Luginbill may have returned to Louisiana from Haiti in June, but her heart is still in the country struggling to recover from a powerful earthquake that hit in January of 2010.
Luginbill is back in Shreveport serving alongside her husband Scott as co-director of youth ministry for Grace Community United Methodist Church in Shreveport after six months working as the United Methodist Volunteers in Mission (UMVIM) team coordinator in Haiti. Sarah held the six-month position as a part of the Haiti Response Plan, a three-year initiative approved by the General Board of Global Ministries and United Methodist Committee on Relief (UMCOR) in October of 2010.
"The first four months were so busy," said Luginbill. "During those months, we hosted more than 100 teams." Since the response plan's inception, a total of 450 teams and 4,300 volunteers have traveled to Haiti to help rebuild the impoverished Caribbean country that suffered unprecedented loss of life and property.
Luginbill explained that UMCOR offers up to $3,500 in matching project funds for each team. This helps to provide at least $7,000 to be used on each response project. "This collaboration between UMVIM and UMCOR is the first of its kind," she said.
In her position as team coordinator, Luginbill worked with team leaders to prepare them for "each step of the mission." Every logistical detail was handled ahead of time, from matching teams with a construction site to making sure that all lodging needs and supplies were provided. "Once a team landed on the ground, they were mine," she said, adding that this kind of support helped to "reduce anxiety."
Luginbill's journey to Haiti began with her first Louisiana VIM mission during spring break of 2010, just months after the deadly earthquake happened. "The sights were shocking on that first trip. There were shabby tents on the road medians, rubble everywhere, crumbled buildings, heaps of garbage. At that time, the port was not functional. And there was no large machinery to help with response," she explained.
Some of the most important tasks in the early stages of the response included moving rubble, providing medical teams and offering educational help on treating water and cleaning techniques to prevent cholera. "The local Methodist churches really stepped up, assisting with teaching the Haitians about water treatment," added Luginbill.
Subsequent missions over the next three years drew her closer to the people of Haiti and to the church's mission in that country. During that time, there were a variety of experiences for Luginbill, many of them preparing her for the job of team coordinator. Most unexpected was a head-on car collision in the spring of 2012 involving her LAVIM team and a motorcycle. "Amazingly, we were all unscathed," she said.
Response Plan Project Coordinator Tom Vencuss, who worked with Luginbill during her time in Haiti, noticed Sarah's ability to remain "cool under pressure." Later that year, he sent her an email, encouraging her to apply for the team coordinator's position.
"My first response was 'No'. I truly felt called to youth ministry," said Luginbill. "But then my husband Scott encouraged me to do it. And then my pastors said that I just had to apply, because the example it would set for the youth could be very positive."
So she applied for the job, and was hired to start the position on Jan. 1, 2013. "I had two weeks to prepare!," she said with a laugh.
As Luginbill explained, over the last six months, Haiti has "captured my heart." "It is so hard to put into words. I still have a difficult time communicating these feelings. It's just something you 'get.' Your body's going back to America, but your heart is staying in Haiti."
She admits to having very mixed feelings about returning home. "When I was in Haiti, I missed Scott so much. And I missed the youth at Grace Community. But I came to love so many people . . . the ladies who cooked for us at the Methodist Guest House; Gerta, who did our laundry and took care of me if I was sick; Nathalie, the 21-year-old daughter of one of the cooks, who attended church with me online; Jessica, the 10-year-old girl who I helped with swimming and computer lessons. I would miss them all, and I still do."
Prior to the earthquake, the United Methodist Church played an important role in the life of Haiti. United Methodist Volunteers in Mission (UMVIM) has been active in Haiti for over 30 years, addressing needs in education, health and housing. "There were 111 Methodist schools and a number of medical clinics. The response effort is helping to rebuild all of those ministries. UMCOR is also providing lots of micro-loans for business startups," said Luginbill.
The main focus of the response plan is to rebuild homes and to provide help with safe water programs, community health efforts, education, reforestation and development of agriculture, she added. "Right now, teachers and farmers are needed as volunteers."
Luginbill is excited about efforts to establish computer labs with the use of low-energy lap tops, which is important in a country where energy is at a premium. "Also, a new way of building houses has been developed, using light-weight building blocks partially made from Styrofoam. You can build an entire home for around $4,000 using these materials."
Reentry into daily life in the United States has been challenging at times. "My perceptions of everything are completely different now. The other day, while jogging, Scott and I saw a water main that had burst on the street. Water was flowing everywhere. I got chocked up because it was clean water, and all I could think of was the Haitian people washing vegetables in filthy water," she said.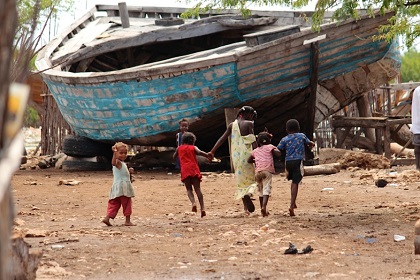 While living in Haiti, Luginbill was reminded daily of the extreme poverty and pain suffered by its people. "I lived in constant heartache for them. Yet, they are a people of great faith with a boundless spirit of hospitality. Such beautiful, hardworking people who exhibit amazing joy."
Luginbill is convinced that Haiti will be her lifelong mission. Those sentiments are shared by her husband Scott. "As long as we are alive, it will always be this way. I don't know what that means for the future, but I can't wait to see what's in store."
Sarah is grateful to Grace Community UMC for sending her to Haiti, giving her a six-month leave of absence, and for saving her job until she returned. "My SPR committee would have done anything to encourage me to go, and I will always remember that. I will forever be changed. It was painful, because God wasn't just molding me, He was chiseling me! It was incredible, and I would do it all over again tomorrow."

CONNECT WITH US
SUBSCRIBE TO OUR EMAILS
The latest news and information