CONNECT WITH US
SUBSCRIBE TO OUR EMAILS
The latest news and information
Three women, three ministries
July 23, 2013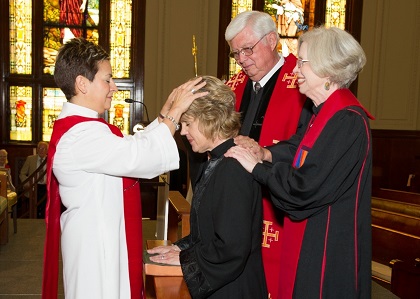 Bishop Cynthia Fierro Harvey ordains Rev. Betsy Eaves as Revs. William Peeples and Carole Cotton Winn look on
Bishop Cynthia Fierro Harvey, Episcopal leader for the Louisiana Annual Conference, ordained Rev. Betsy Eaves as an elder in full connection on June 4, 2013. Rev. Carole Cotton Winn, Betsy's mentor, laid hands on the ordinand's shoulder as a blessing during the liturgical act.
Ordination is held in Louisiana at annual conference every year. As with this year, the worship service is usually held at First United Methodist Church in Shreveport. This particular event, however, was unique in that the first candidate—a woman--ordained by Louisiana's first woman bishop was mentored by the first woman ordained in the Louisiana Conference.
This fairly remarkable coincidence is accompanied by other circumstances which make the story even more interesting.
"Before I even knew Carole Cotton Winn, she was my mentor," said Bishop Harvey, who was, in part, endorsed for the episcopacy by the South Central Jurisdictional Women's Leadership Team. "Carole's long standing leadership in the jurisdiction was significant and I had followed her career with interest."
Cotton Winn's service as an ordained elder began 42 years ago in June of 1972. Prior to that event, she had been ordained as a deacon in 1970.
Going before her in ordination in Louisiana was Rev. Lea Joyner, who was ordained in the Methodist Protestant Church in 1939. That was the year of the uniting of The Methodist Protestant Church, The Methodist Church South and The Methodist Church North. Only the Methodist Protestant conferences were ordaining women at that time. The vote during the union of the three Methodist denominations was to deny any further ordinations of women. Rev. Joyner had stepped through a door in 1939 that closed behind her to any other women seeking ordination.
It was not until the vote of The Methodist Church at General Conference in 1956 that women were allowed to be accepted as candidates for ordained ministry in The Methodist Church, clearing the way for Cotton Winn to work toward and receive ordination. "I felt a strong calling to be an advocate and mentor for those early women who were also knocking on the door of ordination in the conference," she explained.
Years after her ordination, while serving on the Louisiana Conference Board of Ordained Ministry, the parents of one female candidate thanked Cotton Winn for speaking up for young women. "During an interview with that candidate, one of the ministers asked their daughter what she would do if she should get married, inquiring as to how could she fulfill her role as an ordained minister. I spoke up and reminded those conducting the interview that they had not asked any of the men we were interviewing that question, and that it was not going to become a target question for women."
Cotton Winn's journey toward ordained ministry began with "a sense of a call" while attending Centenary College in Shreveport. After receiving her degree in 1965, she became a US-2, serving for two years with the Board of Missions of The United Methodist Church. Those years included ministries with children and youth in the inner city of Nashville, Tenn.
She followed the "unfolding call" to seminary in 1967 at Perkins School of Theology at SMU in Dallas, Tex. at a time when women were getting a Masters in Religious Education (MRE) and male students were getting a Bachelor of Divinity degree. She went to seminary with the intent of earning an MRE degree and working in the church as a Christian educator.
Throughout her three years at Perkins, Carole's call began to evolve. "During the late 1960's, the women's movement was touching the lives of persons and institutions across the country. At that time, it opened my eyes and heart to an unknown future."
She made the critical decision to stay at Perkins for a third year, changing her pursuit toward an MRE degree to a Masters of Divinity degree. Her next "life-defining decision" was to begin the process with the Board of Ordained Ministry to be ordained in the Louisiana Conference.
During a 12-year period, she co-pastored two churches, First UMC in Houma and Aldersgate UMC in Slidell with her husband, Rev. John Winn. Bishop Bill Oden ultimately appointed her to the cabinet of the Louisiana Conference and Cotton Winn served the Lake Charles and New Orleans Districts as superintendent, the first woman to do so in the conference.
Adding to her resume of service, Carole was appointed the Director of the Academy for Spiritual Leadership for the conference. She held the position until her retirement in 2012. "The Academy offers various year-long retreat cycles which seek to deepen the faith journey of laity and clergy and raise up spiritual leaders for Christ. Since the Academy was started 14 years ago, more than 575 persons have participated in the various offerings," she said.
Rev. Betsy Eaves was one of many who have been inspired toward ministry by Cotton Winn. "The blessing of being mentored by Carole and ordained by Bishop Harvey is as much about who they are as people, as who they are as women. Each of us in our own way has overcome obstacles in responding to a call to ministry. Each of us has had people tell us we couldn't or shouldn't be on the path we were on, or in the roles we chose to serve. But, we have also been blessed by people - women and men - who affirmed our gifts, our passion, our spirit and our sense of call," said Eaves. "I am indebted to these two women for being voices of 'Yes, you can!'"
The new ordinand added, "Despite the short time Bishop Harvey has been our bishop, she has already become a supportive colleague in ministry, one who has led by example and opened her heart to my heart."
Eaves has been one of several women mentored by Cotton Winn, in both an official capacity as candidacy mentor and "unofficial" capacity of friend and supporter, according to Carole. "No doubt Betsy and I have the longest official role of my serving as mentor through the nine years of her journey to seminary and ordination. Throughout her process of taking seminary courses, Betsy maintained a high standard of excellence in ministry while serving on the staff of Centenary College, serving as mentor herself to college students. Our conference is indebted to her, for guiding with care and support many of the women and men who are now serving appointments or serving in ways 'deep and wide' in local churches as active laity."
Serving since 2002 as chaplain for Centenary College, Eaves also directed the college's Church Careers Institute and Christian Leadership Center. She is currently appointed to Grace Community UMC in Shreveport as associate pastor.
Adding to the list of coincidences connected to the June 4 ordination in Shreveport, Rev. Jared Williams, elder, and Rev. Chris McLain, deacon, are two former Centenary students mentored by Eaves who were ordained alongside her that evening.
"Jared and Chris were among the many students in the Church Careers Institute and Christian Leadership Center walking with me during the eight years of my seminary work. It was challenging to juggle family and seminary and full-time ministry during those years. Jared and Chris offered me grace when I was exhausted, and were great at making me laugh at life. They stepped up as student leaders, sharing my work and ministry. It was wonderful sharing ordination with them," said Eaves, who felt the two represented a host of students who "have loved me through my years at Centenary."


When asked about the significance of being ordained by a woman bishop, Eaves commented, "On some level, I don't want it to matter. People are people. But the reality is that living out a call to ministry, while carrying the responsibilities of wife, mother, daughter, daughter-in-law or sister have a certain uniqueness to them. And having a bishop who personally understands something about juggling all of that is pretty wonderful."
Rev. Cotton Winn was part of the Women's Leadership Team which endorsed Bishop Harvey as a candidate for bishop in the South Central Jurisdiction. "In hearing her responses to our questions, it was clear to me that she brought the gifts that we needed in our Episcopal leaders. At the welcoming service for Bishop Harvey in Baton Rouge, La. last summer, I was sitting with Marie Williams and Lane Cotton Winn. Lane is my daughter, who serves as an associate pastor for Aldersgate UMC in Slidell. Marie and I are elders with more than 80 years of combined ministry, and Lane is one of the many young clergy women beginning her first years of service. It was a heartwarming experience to receive a woman as our Area Bishop, for such a time as this."
Rev. Eaves had this to add: "I do believe it is incumbent upon women who hold leadership roles to model a healthy, vibrant balance in life that allows us to celebrate and merge the best of all of the roles. I think we are blessed with a bishop who will help us do that. The modeling of such leadership by women is important to other women, but is just as important for the men of the conference. As taught in I Corinthians 12, we all need each other and the gifts, perspectives and experiences each brings. We are better together and our diversity makes us even stronger."


Eaves went on to say, "I pray the historical moment I was blessed to be a part of on June 4 was a moment in which anyone-- regardless of the obstacles they face--will see an affirmation of not only how far we have come as women in the United Methodist Church, but also hear a voice saying 'Yes, you can!'"
CONNECT WITH US
SUBSCRIBE TO OUR EMAILS
The latest news and information