CONNECT WITH US
SUBSCRIBE TO OUR EMAILS
The latest news and information
Brushwood UMC steps up to 'bless the children'
July 16, 2013
Brushwood United Methodist Church in Dubberly, La. is a church without a sanctuary. Due to major structural problems, the building was torn down.
The church and congregation, however, are more vibrant than ever.

In response to the Louisiana conference "Bless the Children" initiative, Brushwood UMC's first strategic mission outreach is scheduled for Aug. 3. "Back to School Blessing" invites families with school age children to receive free backpacks filled with school supplies. The two-hour event will be a time of fun and fellowship with food, games and music. A drawing for free bicycles and sports balls will be a highlight of the event.
"The church has earmarked $2,000 the event. In my past corporate life, I was taught to 'follow the money.' The money says this congregation is 'all in' in blessing our children!," wrote Rev. Ed Cooper.

Rev. Cooper added that this event is being held in an area of South Webster parish known as the "Lowland of Sorrow." This area is populated by the poor and drug addiction is a significant problem. "We believe, with our whole hearts, a name change for this area will ensue
following this 'time of blessing.' Brushwood is committed to mission, even though we are a church without walls, prioritizing lives over bricks."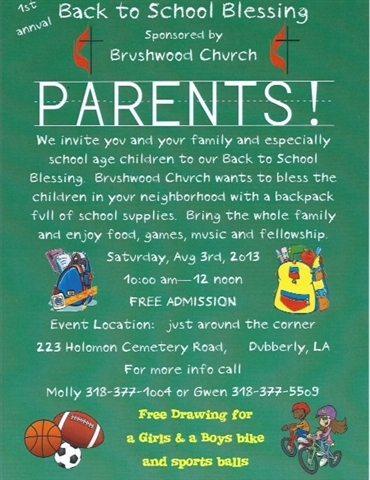 CONNECT WITH US
SUBSCRIBE TO OUR EMAILS
The latest news and information