CONNECT WITH US
SUBSCRIBE TO OUR EMAILS
The latest news and information
VBS lifts up Imagine No Malaria
July 09, 2013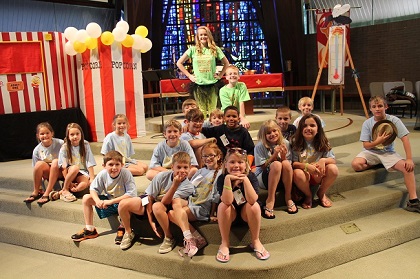 Broadmoor United Methodist Church in Baton Rouge focused on raising funds and awareness for Imagine No Malaria during this year's Vacation Bible School.
Caroline Capello (a friendly mosquito) and her helper Lyle Bordelon-Walker are pictured with one of the VBS classes. The photo also shows the mosquito thermometer used during the week to indicate the level of mission givings for Imagine No Malaria, an initiative of The United Methodist Church.
"Our goal was to raise $1,200; instead, we raised around $1,400!," said Peggy Luzarraga.

Caroline and Lyle passed out green "Imagine No Malaria" wristbands to children and adults throughout the week. The VBS theme of "Everywhere Fun Fair" emphasized learning how to be a Godly neighbor. The children learned about people in Australia, Japan, Mexico, and Africa. Imagine No Malaria was selected for the VBS mission due to the fact that Africa has been hard hit by malaria.

CONNECT WITH US
SUBSCRIBE TO OUR EMAILS
The latest news and information