CONNECT WITH US
SUBSCRIBE TO OUR EMAILS
The latest news and information
Bishop Greg Palmer featured speaker at Conference
June 04, 2013
The 2013 session of the Louisiana Annual Conference continued June 3 in the Gold Dome on Centenary's campus.
To follow the latest happenings of the event, visit our Facebook page and find our new mobile app which can be downloaded at http://www.la-umc.org/news/detail/1041.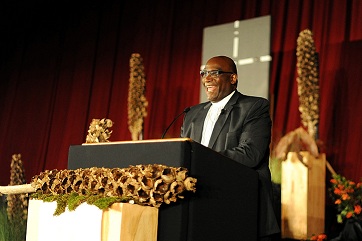 Bishop Gregory Palmer
Bishop Gregory Palmer, Episcopal leader of the West Ohio Area of The United Methodist Church, delivered powerful messages in the Gold Dome during Monday night worship and at 8:45 a.m. on Tuesday morning. Bishop Palmer reminded the Louisiana Conference that every church, whether there are five members or hundreds of members, has "everything they need to take the next step in ministry."
Each congregation turned in financial and ministry commitment forms during Monday night's worship service for the "Bless the Children" initiative, focusing on ministry with underserved children. A total of $485,034 was pledged by Louisiana's local churches to this initiative. In addition, more than $3,000 was collected for the United Methodist Youth Service Fund.
During the 2012 session of Annual Conference, the decision was made to form a Transition Task Force to guide the conference in the implementation of the decisions made related to reports from the Strategic Vitality Task Force and the Conference Council on Finance and Administration. These decisions resulted in a major budget cut and the elimination of one district in the Louisiana Conference. The Transition Task Force presented its work on Monday, and the report may be viewed here.
A Structure Revision Team, appointed to study our current structure as a conference, proposed the dissolution of the Conference Ministry Team and a movement toward a strategic visioning entity known as the "Joshua Team." Members approved the report.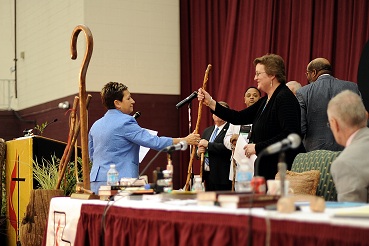 Bishop Cynthia Fierro Harvey presents walking stick to Rev. Ellen Alston during the Redistricting Service held on Monday afternoon.
A service recognizing the realignment of conference districts—eliminating the Alexandria District, and moving to six districts—was held Monday afternoon in the Dome.
Three persons will be ordained elders in full connection with the conference, and two will be ordained as deacon in full connection during tonight's Ordination and Commissioning Service at First UMC, Shreveport. Five will be commissioned as provisional elders and one will be commissioned as provisional deacon. The service is at 7:30 p.m.
The annual conference will vote Wednesday on four constitutional amendments that were approved at the 2012 General Conference. The amendments can be found in the pre-conference report.

CONNECT WITH US
SUBSCRIBE TO OUR EMAILS
The latest news and information