CONNECT WITH US
SUBSCRIBE TO OUR EMAILS
The latest news and information
St. Matthew's UMC permanent endowment fund reaches goal of $500,000
May 15, 2013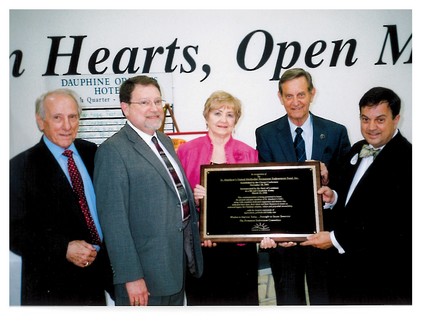 Pictured above are Mike Murphy (planned giving chair), James Bourgeois (church council chair), Jerry Gast (board of trustees chair), Rev. Dr. Ken Reed (past CEO UM Foundation of La.) and John Crifasi (permanent endowment president).
St. Matthew's United Methodist Church in Metairie recently celebrated reaching its target goal of $500,000 for a permanent endowment fund. More than 100 church members and endowment supporters gathered April 21 for the 18th Endowment Extravaganza, an auction and gala aimed at raising money for the fund.
Rev. Dr. Ken Reed, retired pastor and past CEO of the United Methodist Foundation of Louisiana, assisted John Crifasi, committee president, and Mike Murphy, planned giving chair, with the announcement. The three presented a commemorative engraved plaque to the church council and board of trustees.
Now that the endowment fund has reached this plateau, the permanent endowment committee will be able to direct distributions of a percentage of its annual dividends and interest to supplement expenses associated with non-budgeted items for the church's infrastructure, as well as for other programs and Christian ministries.
St. Matthew's endowment committee is comprised of 15 members with three rotating off each year. Patrick Jones, chair of the original committee that drafted the fund's mission and policy statement in 1993, said the committee's guideline manual "continues to provide an efficient roadmap for committee operations."
The St. Matthew's Permanent Endowment Fund, Inc. was incorporated in 1995 as a tax-exempt 501 c3 charitable entity. The fund's investment accounts are currently managed by the United Methodist Foundation of Louisiana.
Pastors of St. Matthew's UMC who provided leadership during the beginning and through the building of the fund were the late Rev. Bill Eubanks, Rev. Dr. Peter Harrington, and the current pastor, Rev. Jeff Conner.
"This endowed fund will prove to be a valuable planning tool and a legacy at St. Matthew's for future generations of children and grandchildren. St. Matthew's UMC has been blessed by the fortitude of its dedicated and faithful membership," said Murphy.
CONNECT WITH US
SUBSCRIBE TO OUR EMAILS
The latest news and information