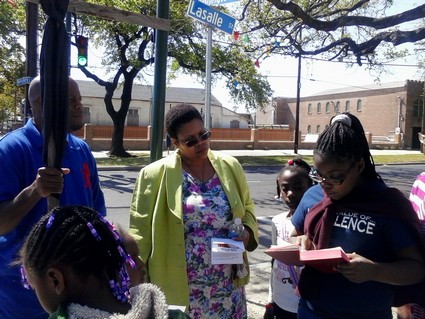 Rev. Sonya Lars, pastor of Mount Zion UMC prepares for Walk of Faith
Mount Zion United Methodist Church in New Orleans hosted several special events during this year's Holy Week. Celebrations included a three-night revival with Rev. Dr. Tom Watson with Watson Memorial Teaching Ministries and guest choirs from First Street Peck UMC and Watson Memorial choir; a reenactment of the Last Supper by Mount Zion's "Not Yet Ready for Prime Time Players", followed by a Seder Meal prepared by the church's United Methodist Women; and a Walk of Faith on Good Friday morning.
During the walk, members and friends of Mount Zion took to the streets in New Orleans' Central City area of New Orleans, reading scripture, praying and visiting with their neighbors. This worship outside the walls experience is coordinated annually by Betty Angelo. There were three routes throughout the neighborhood with one of the groups comprised mostly of youth and children. During the walk, each group had tickets to invite neighbors to a catfish dinner provided by the church.