CONNECT WITH US
SUBSCRIBE TO OUR EMAILS
The latest news and information
Centenary Archives digitizes Louisiana United Methodist publications
April 11, 2013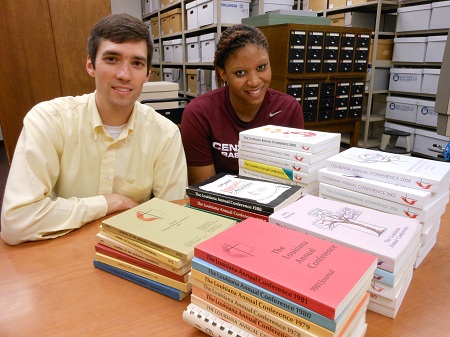 Chris Brown '01 (Centenary Archivist) and Kayla Ruth '15 (Centenary Archives student worker)
FOR IMMEDIATE RELEASE (March 28, 2013)
Contact: Dena Pruett, Centenary External Relations, 318.869.5715
Centenary Archives digitizes Louisiana United Methodist publications
SHREVEPORT, LA — The Centenary College of Louisiana Archives and Special Collections recently has digitized and made available forty-three volumes of the Journal of the Louisiana Annual Conference of the United Methodist Church (1968-2010).
"This project improves access to some of the most frequently used resources in the archives," said Chris Brown, Centenary Archivist. "Furthermore, the journals serve as one of the most important publications by the Louisiana Conference. They contain valuable information about conference proceedings, appointments, memoirs, and agencies (e.g., boards, committees, and commissions). Statistics from the project indicate that 17,362 pages are now accessible online, and the 43 volumes have been downloaded by users over 1,150 times since the project began in January 2013."
The Centenary Archives would like to thank the Louisiana Conference Commission on Archives and History for funding this project. Thanks also go to Centenary Archives student worker, Kayla Ruth '15, who proofed each volume to ensure clean, complete copies were mailed to the scanning center.
The project was made possible through the LYRASIS Mass Digitization Collaborative – a Sloan Foundation grant-subsidized program that has made digitization easy and affordable for libraries and cultural institutions across the country. Through the Collaborative's partnership with the Internet Archive, all items were scanned from cover-to-cover and in full color. Researchers can choose from a variety of formats, page through a book choosing the "read online" option, download the PDF, or search the full text version.
About Centenary College of Louisiana
Founded in 1825, Centenary College of Louisiana is the oldest chartered liberal arts college west of the Mississippi River and is a U.S. News & World Report Tier One National Liberal Arts College. A member of the Associated Colleges of the South, Centenary is a selective, private, residential institution, affiliated with the United Methodist Church.
CONNECT WITH US
SUBSCRIBE TO OUR EMAILS
The latest news and information