CONNECT WITH US
SUBSCRIBE TO OUR EMAILS
The latest news and information
Bishop Harvey receives Women of Excellence Award
March 28, 2013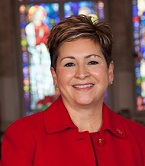 Bishop Cynthia Fierro Harvey received the 2013 Women of Excellence Award during Wiley College's annual convocation held March 26 on its campus in Marshall, Tex.
The convocation was one component of a week-long observance filled with "women of excellence" activities. This year's conference activities focused on achieving excellence through a "march of solidarity"; worshipping for spiritual renewal; and reaching out to others through community projects.
Bishop Harvey was one of four recipients of the award from the historically black, primarily liberal arts institution affiliated with The United Methodist Church. Other honorees this year included Dr. Lezli Baskerville, Gina Keatley and the Honorable Doris Maloy.
Each year, Wiley College celebrates women in general, and the achievements of a "select group of women who have made their mark in their chosen professions or vocations."

CONNECT WITH US
SUBSCRIBE TO OUR EMAILS
The latest news and information